Baxter's delight with opening night show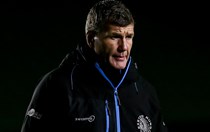 By Mark Stevens
21/11/20
Rob Baxter was full of praise for his Exeter Chiefs side as they kicked off the defence of their Gallagher Premiership title with an emphatic 33-3 win away to Harlequins.
Just 27 days after lifting English rugby's top prize across the road at Twickenham Stadium, the Chiefs illustrated in detail that they are more than ready for the challenge from their top-flight rivals.
No.8 Sam Simmonds led the charge, scoring a hat-trick of tries, whilst there were further touchdowns from Dave Ewers and Stu Townsend with Joe Simmonds completing the job with four conversions.
Harlequins, who took an early lead through a penalty from Marcus Smith, offered a decent enough challenge for an hour at least, but it was the supremacy of the Chiefs in the final quarter which saw the visitors to all five points.
"I've said it a lot over the last six months, but sometimes you have to hand it over to the players," said Baxter. "Ultimately, we can say all the right things as coaches - and it's easy to say the right things when you have working with a group for a long time - because they know what you are going to say, we know what it takes to win a game, but actually you have to hand it over to the players and ask are they going to turn up and work hard today.
"As I said, the bits and pieces are there, but unless you are willing to work hard enough for it all to come together, it won't happen. Thankfully, we did tonight and that's all credit to the players. They stuck to task well, because the game was tight for a long period, yet it felt like we knew what we were doing. The players have just said they comfortable throughout and they knew what they were doing was working and, in the end, it paid dividends for them."
Leading just 7-3 at the break, it was Exeter's power game that came to the fore in the second half, reaping a brace of scores for Simmonds, as well as Ewers and Townsend.
"You could see the hunger is there," replied Baxter. "We know the challenges are going to come thick and fast. Today was a good challenge against what is a very good Harlequins unit. They've not had as many international call-ups like they would have done in the past; they've had a bit more time together; yet we've probably had more game time and we used that to our advantage."
No.8 Simmonds - again surprisingly kept out of Eddie Jones' England plans despite his on-field efforts for the Chiefs - gave a timely reminder of his prowess with his man-of-the-match display.
Understandably, Baxter offered a rave review of his performance, adding: "If you look at his first try, there is probably not another back-row forward in the country that can do that. In terms of England, that is what he has to do, he has to show things that no one else can do. That's how you change the mind of an International selector."
However, it was not just Simmonds who Baxter singled out post-game. Indeed, he was full of praise for everyone, saying: "I thought Don [Armand] was exceptional and he ran the line-out very well. Facu [Cordero] came in for what was his first real frontline start and did well. Will Witty was another starting in that frontline group, Marcus Street coming off the bench, they all made really important contributions.
"To a man, you have to say 'well done' because it will be these guys who will drive us forward this season."