Be part of the new East Stand experience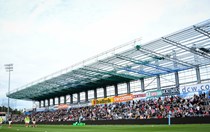 By Mark Stevens
13/9/21
As our pictures show, the new East Stand at Exeter's Sandy Park Stadium looks quite the sight on a Chiefs match-day.
Supporters were welcomed into the redeveloped stand for the first time at the weekend for the pre-season friendly against visiting Munster.
However, the opportunity to secure one of the best seats in the house is still available through the 150th Anniversary East Stand Debenture scheme.
Less than 100 of the 500 seats made available now remain and time is fast running out for supporters to be part of our exciting vision of the future.
Signing up for the Debenture Scheme with a £5,000 investment – which is repayable at the end of the 10-year term – not only allows you to invest into the rugby club's long-term future, but it also a sound, financial investment which would also secure a 15% discount for each season ticket purchased over the term of the debenture.
With a host of other benefits made available to those who sign up, this will be the only chance to secure one of these prime seats in the East Stand for the next decade.
To find out more about the scheme or to register your interest, simply visit the website at: www.exeterchiefsdebenture.co.uk