Beach challenge pushes Nowell to the limit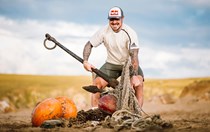 By Mark Stevens
12/8/20
In a season which has been disrupted by injury and unprecedented circumstances, Exeter Chiefs and England star Jack Nowell admits he's raring to return to action in a season that still promises both domestic and European glory.
With the Chiefs set to resume duties in the Gallagher Premiership this Saturday against Leicester Tigers, plus a Heineken Champions Cup quarter-finals and the potential of a Guinness Six Nations return looming, part of the winger's return to duty involved working with Red Bull to put his body through a brutal obstacle course in which every facet of his game was put to the test.
Born into a family that's trawled the sea for generations, the course was inspired by his fisherman roots and set on Holywell Beach in Cornwall. To ensure the course replicated the physical pressures of a full 80-minute game as closely as possible, the team at Red Bull worked in conjunction with Exeter's Director of Rugby, Rob Baxter, and Head of Strength and Conditioning, Mark Twiggs, to produce a course that left that no stone (or no shell) in this case left unturned.
Produced by Red Bull, the video is available on the Red Bull Pro Hub, offers an unparalleled insight into how elite athletes train. From nutrition and mindset tips to training regimes, the platform provides an exclusive glimpse into the lives of Red Bull athletes – helping to inspire others to take their training to a new level.
The course itself for the Cornishman involved dragging a 70kg anchor, flipping three life boats (first – 120kg, second - 160kg, third - 180kg), pin-point passing, an agility course with buoys, together with a kicking challenge. To make things even tougher, the course had to be completed within 60 seconds.
Speaking on the course, Nowell said: "It was honestly one of the toughest things I've done, but I think it holds me in great shape for the season re-start. It was designed to test all the elements of my game, but having to do it on sand made it that much tougher. I can't wait to get back on the pitch and show what I've been working on."
As well as documenting the challenge, the video delves into Jack's childhood – looking at how the athlete's drive and commitment enabled him to compete with the very best.
Speaking on her son's fearless attitude, his mum, Louisa, said: "It's just about being the best he can be in everything. He's a dad now, so he'll probably want to be the best at that. That's what's made him so successful in rugby – he's never given up. If you give him a challenge, he'll surpass it."