Become a Match-Day Steward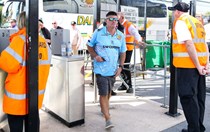 By Mark Stevens
27/7/22
We want you to be part of the Exeter Chiefs team, helping to provide what we know is the best match-day experience in rugby.
With crowds in the region of 15,000 regularly packing into Sandy Park the demand on our facility and its personnel continues to grow each year. That's why, we are now looking for additional stewards to assist us on match-days.
In what is sure to be another action-packed season at the home of the Chiefs, we need additional support to ensure we maintain the highest of standards for everyone visiting the stadium on match-days.
Deputy Chief Executive, Keiron Northcott, said: "Our gates have continued to increase in line with the stadium development and now we regularly welcome crowds in the region of 15,000 fans. With Sandy Park having undergone further expansion with the redevelopment of the East Stand, it's imperative we have enough stewards in place to cater with our increased demand.
"Gone are the days when we could ask them to steward for a cup of tea and a pasty. Now, all of our stewards get paid for their time on match-days, as well as gaining an official NVQ qualification. As always our number one priority here has to be the safety and comfort of all our supporters."
Since being promoted into the Premiership back in 2010, the Chiefs have created an award-winning, match-day experience that is unrivalled not only in the top flight, but also across those clubs we face in European competition.
Keiron continued: "One of the main reasons for winning these awards has been because of the knowledge and helpfulness of our existing stewards and it is important that we maintain this moving forward."
If you are interested in applying to become one of the match-day stewards, please send a covering letter and CV to the reception at Sandy Park or e-mail it back directly to: vacancies@exeterchiefs.co.uk in the first instance.
Anyone applying for a role is expected to be able to attend most of the Chiefs fixtures and must be 18 years or over to apply. The club also reserves the right to request written proof of age. You must also be able to demonstrate your eligibility to work in the UK. The club is an equal opportunities employer.