Black Ferns prove too strong for Eagles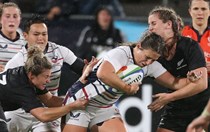 By Mark Stevens
18/6/20
The New Zealand Black Ferns served up a timely reminder to their Rugby World Cup rivals as they clinched the 2022 Pacific Four Series with a 50-6 victory over the USA Women's Eagles.
On home soil at the Semenoff Stadium in Whangarei, the Black Ferns proved far too strong for the Eagles, who included five Exeter Chiefs players in their match-day squad.
The hosts scored eight tries in total through Renee Wickliffe, Arihana Marino-Tauhinu, Ayesha Leti-l'iga (3), Kendra Reynolds, Renee Holmes and Sylvia Brunt with Hazel Tubic (3), Ruahei Demant and Holmes sharing the conversions.
In reply, Exeter Chiefs fly-half Megan Foster kicked two first half penalties for the visitors, whose sole victory in the competition came against Australia in the second round.
Other Chiefs on show for the Eagles included captain Kate Zackary, together with Hope Rogers, Jennine Detiveaux, Gabby Cantorna and Rachel Johnson.
Post-game, USA Eagles head coach Rob Cain said: "New Zealand did exactly what we knew they would do, we had to dictate the game through our ability to win collisions and contact areas. Both the conditions and nerves played a part and we will learn from that as it took too much time for us to settle.
"There wasn't the same individual ownership that we had and needed from last week, where New Zealand took full advantage. We lost too many collisions, and missed an unacceptable amount of tackles at this level, especially in the first 40 minutes. This allowed New Zealand to not only own the tempo, but also the scoreline. We dominated the ccrum, we did have moments where we built momentum but we were unable to add points to this effort either due to a tactical or skill error in real time on the pitch.
"Going into half-time 29-6, we asked the group to fight and they did just that for large parts of the second half. The final score was very disappointing, especially after all the efforts in the second half. New Zealand showed us they are a good team, their cohesion and skill level through having full time contracts did show through. After last week's win, which was filled with very promising individual performances against Australia, it is disappointing to finish the series this way.
"That said, the past three weeks have highlighted some real strengths to maximize and some areas we must get right as individuals and as a team. Our Rugby World Cup pre-season will allow us the time to do both."
* Meanwhile, Canada Women finished runners-up behind the Black Ferns after they ended their tournament with a 22-10 victory over Australia at the Semenoff Stadium in Whangarei.
Exeter Chiefs hooker Emily Tuttosi was amongst the try-scorers for her team, which also included club-mates DaLeaka Menin and Gabby Senft, as well as former Chiefs prop Olivia DeMerchant.