Bradfords Festivals prove a smash hit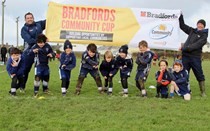 By Mark Stevens
4/2/20
Youngsters from across the region are benefitting from a fantastic new partnership between the Community Chiefs and Bradfords Building Supplies, which is helping to deliver a series of Under-8 Tag Rugby Festivals.
With Bradfords already being a key partner of the club, they wanted to expand their sponsorship and reach locally by helping support teams by helping offer invaluable experiences to young people.
Over the course of the current season, there will be four tag festivals held at various locations across the Westcountry. So far, two have already been at Redruth Rugby Club and another at Bridgwater & Albion Rugby Club.
Both events saw 19 teams in attendance, welcoming over 150 players on both days, for a festival packed full of team-work, determination and, most importantly, good old-fashioned rugby spirit.
Future events are already planned for Yeovil RFC (February 9) and Exeter Athletic RFC (April 12), the first of which is still looking for two more teams to enter.
As part of each festival, Community Chiefs run social media competitions allowing one team from each festival to attend a showpiece event at Sandy Park, which will be held on an Exeter Chiefs match-day.
The winner of each festival is given to the team that can gain the most likes on their team photo which has been uploaded onto the Bradfords Building Supplies Facebook page.
From the Redruth festival, Plymstock Albion Oaks RFC managed to bag the win getting around 1,200 likes, while the Bridgwater competition is currently running with Western Hornets RFC and Bridgwater RFC battling out at the top.
To find out more about the upcoming festivals – or to register your team for the Yeovil event, simply email Community Chiefs Development Manager, Aron Struminski at aronstruminski@exeterchiefs.co.uk or call (01392) 890914.