Brighty completes 24-hour challenge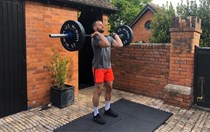 By Mark Stevens
18/5/20
The current lockdown has seen many of us take to exercise as a way of helping get through the days and weeks, but Exeter Chiefs Community coach Richard Bright took his fitness regime to a new level over the weekend.
Keen to keep up his daily routine, but combine a fundraising element to it, the 30-year-old undertook the challenge of tackling 24 different work-ours in 24 hours.
The 'Scrub Up Challenge' saw Richard undergo 24 gruelling work-outs, the aim of which was to support Fortis Clothing, a company based in Axminster, who are helping the national effort to supply scrubs and scrub bags to medical staff across the country.
With friends, family and girlfriend Kate providing plenty of support throughout the event, Richard's amazing fundraising efforts have so far seen him amass over £3,000 and rising.
Commenting afterwards, Richard said: "Without doubt that's the toughest thing I've done in my life, but it's nothing compared to what all those people on the frontline of the NHS are having to take on at the moment.
"Both physically and mentally there were some dark times during the 24 hours, but I managed to get through them and to have raised over £3,000 is just amazing. I know the money I've raised will help to make a real difference, so I'm glad to have done my bit."
Having burnt in the region of 20,000 to 30,000 calories during his challenge, it's little wonder that Richard was enjoying a bit of downtime in the aftermath of his exploits. However, he says it won't be long before he's back on the bike and lifting weights once again!
People can still give to Richard's fundraiser by clicking here