Cantorna calls for more of the same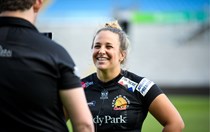 By Harry Scott-Munro
9/5/22
Exeter Chiefs Women's centre Gabby Cantorna joked that her team-mates "had felt bad for her" as she finally ended her try drought in a stunning 54-12 victory over Saracens in the Allianz Premier 15s at Sandy Park.
Cantorna's try, along with 14 points from the boot, capped a fantastic afternoon for the Chiefs, who ran in seven more scores from Hope Rogers, Emily Tuttosi, Merryn Doidge, Flo Robinson, Rachel Johnson, Jennine Detiveaux and Linde van der Velden to topple the league leaders.
Fresh from claiming the inaugural Allianz Cup, Susie Appleby's Chiefs were in dominant form against the Londoners and Cantorna admitted her side had focused on backing up that success with another powerful display against the Londoners.
"We've been talking all week about building off of our cup performances," she said. "Coming back into the Premiership, we wanted to transfer that into these games. It was all about winning this game to secure the semi-final spot, but the next push has to be for a home semi-final."
After a somewhat injury-disrupted season, Saturday was Cantorna's first match back in the league since the reverse fixture in Round 5, the American credited the Allianz Cup competition for allowing her to get back up to speed, as she has worked her way back to fitness and top form.
"I'm really grateful to have had the opportunity in the Cup," she added. "It gave me an opportunity to get my legs back into it and work my way back into the team. It helped me leap into this first Premiership game since that injury and I'm so excited to be a part of this group."
Cantorna's second half touchdown took her side past the 50-point mark to finish the game with a flourish. Despite passing the impressive milestone of 150 points in a Chiefs jersey, the centre admitted that she had been receiving a bit of flak from her teammates for her barren spell in crossing the try line.
She continued: "I love being part of this club and the try was a real gift!
"It was probably because they feel bad that I don't score many tries, so I think they felt bad for me and let me have that one! I love that everyone here looks out for each other here and we couldn't do it without each other!"
Victory over Saracens is one thing, but the Chiefs now have to back that up this weekend against fellow play-off rivals Bristol Bears. A victory will secure a home semi-final and Cantorna admits that her side are looking to right the wrongs of the opening day defeat to the Bears.
"It's going to be a massive game for us. We've been building towards this. We were disappointed with how we opened the season against Bristol, so we're ready and we're raring to go. We're hoping to get a huge crowd here as we push for a home semi-final."