Chapman Signs with Chiefs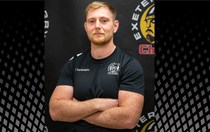 Former Jersey Reds back row Hallam Chapman has signed for Exeter Chiefs following a successful trial period.
Chapman joined up with the Chiefs in October following the news that his club – RFU Championship side, Jersey Reds – would cease trading in the midst of financial woes, leaving the back rower without a contract.
Discussing the opportunity afforded to him by Rob Baxter and the Chiefs, the man born in Devon can't quite believe that he is playing for his home Premiership club after a testing few months.
"It's been a rollercoaster. I suppose you've just got to be perseverant. I feel like any setback you have – there's always opportunities to go from there. I had a brilliant time at Jersey – the coaches and boys were fantastic – but unfortunately it is no more."
"So, to come back home and have an opportunity here to kick on from is just brilliant. I've just got to keep on going, carry on working hard, and if something gets in the way then I'll just deal with it and go from there."
"The coaches really know how to push the players and, in fairness, the players are really good at knowing what we need to do right and how to build upon things ourselves. We've got high expectations of ourselves and we've got to push ourselves to fulfil them."
Chapman's time prior to the island life included a trail period with London Irish. He also spent time in National Two with Sedgley Park Tigers and Fylde playing simultaneously in the league while still representing his university side at Manchester Metropolitan University.
The 26-year-old also has a handful of representative honours to his name including England Counties U20s and England Students 7s.
Director of rugby Rob Baxter is delighted with the newest acquisition for his squad.
"Hallam is an ambitious young player taking a less traditional rugby route where he has looked for opportunities outside the regular academy pathway. This led him to play games for London Irish and then to a contract with Jersey."
"The situation at Jersey led to Hallam returning home to North Devon and again seeking new opportunities, and after reviewing some footage of him, I invited him to a trial period to train with us. At the same time Plymouth Albion were looking for back five forwards so Hallam trained with us and played for Plymouth over a two-week period and in that time has earned a contract to the end of the season with us."
"He featured in the A league friendly on Monday. I see him as a hard working, ambitious young man who has been prepared to follow his dream and I can see him developing at a rapid pace in the short time he has been with us."
"Hopefully this can continue across the rest of this season and Hallam can make the most of this opportunity."