Chiefs back #Unacceptable Campaign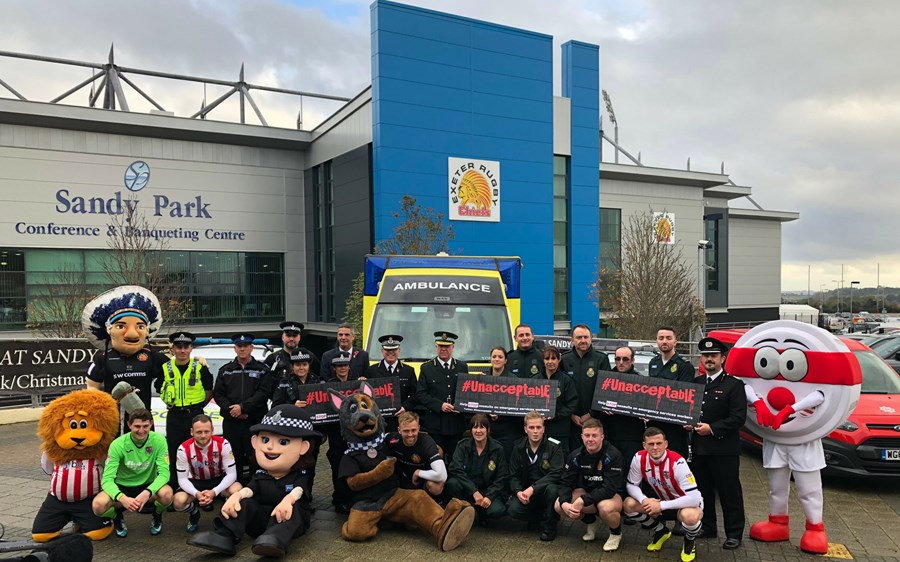 By Mark Stevens
6/11/18
Exeter Chiefs, together with Exeter City Football Club, have thrown their support behind the new #Unacceptable Campaign, which aimed at reducing the amount of verbal and physical attacks being carried out on Emergency Service personnel.
At a special launch held at Sandy Park, leading figures from the police, ambulance and fire services across the region came together to spell out the message that such cases are simply #Unacceptable and that the problem needed to be addressed.
Statistics have revealed that by the end of 2018, over 1,400 police officers from Devon & Cornwall, Dorset and Avon & Somerset will have been assaulted while carrying out their duties to keep the peace within their local communities.
Part of the campaign is that organisers are looking for the support of the public to help them achieve their goal of zero assaults on emergency services workers by getting involved in the #Goal999 social media challenge.
This is a simple, yet fun challenge, as it asks for people to post their photographs and videos of their most creative goal on Facebook and Twitter, using the hashtags #Goal999 and #Unacceptable. When you post your attempts, you are then asked to nominate two more friends or family members to share their goals too.
Goals don't have to be sport-based, they can include anything positive; whether that be climbing a mountain, painting a landscape or even growing vegetables - and the winner of the 'most creative' goal could scoop an early Christmas present in the form of a signed shirt by the Exeter Chiefs or Exeter City.
Tony Rowe OBE, Chairman & Chief Executive of Exeter Chiefs Rugby, said: "Every day our emergency services put themselves at the forefront of so much for our local communities. However, what is not acceptable is for those service personnel to then be submitted to assault or abuse whilst carrying out their duties.
"As a club we are fully support of the #Unacceptable campaign, which we believe will not only bring these issues into the minds of the public, but will help to make a real difference to those who continue to serve us so well."