Chiefs confirm pre-season fixture list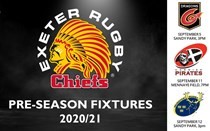 By Mark Stevens
12/2/20
Rob Baxter says his Exeter Chiefs squad could not ask for better line-up to tackle, following confirmation today of the club's pre-season fixtures ahead of the 2020/21 campaign.
As has become the norm for the Chiefs in recent years, the Gallagher Premiership club will spread three competitive fixtures across two weeks in the early weeks of September.
The Chiefs will kick-off their pre-season programme against Guinness Pro12 visitors, Dragons, on Saturday, September 5 (3pm).
The following week will see Baxter's side travel down the A30 to face Championship outfit, Cornish Pirates, at the Mennaye Field on Friday, September 11 (7pm), quickly followed a day later with the visit of Munster to Sandy Park on Saturday, September 12 (3pm).
"I'm really pleased with the pre-season programme we've been able to put together," said the Chiefs' Director of Rugby. "For all the right reasons our pre-seasons in recent years have become a lot shorter. That in turn has meant we've had to look at ways of ensuring that not only do we get the correct amount of conditioning time into the guys, but also the right amount of game time to ensure we are competitive from minute one.
"That has meant for us to get that balance right, we've tended to double up one of the weekends to ensure that pretty much the whole squad get game minutes into them. As I said, it's three very good fixtures for us and games I know that will help us get up to speed for those opening weeks of the new season."
With the Premiership Rugby Cup acting as the pre-season games for many top-flight clubs this season, Baxter is more than happy to return to former opponents to provide the ideal build-up for his players.
"Obviously we tend to try and fix these games into either two or three-year blocks," explained Baxter. "This year, because of the World Cup, the Premiership Rugby Cup was used by a lot of clubs as their pre-season fixtures.
"Two years' ago, we obviously went over to Munster for pre-season and had a great test against them – and we did the same by going down to the Pirates, so it's a kind of reciprocal thing in terms of those two games.
"As I said, they are three very good tests for us. The Dragons we have faced a number of times over the years, whether it's in pre-season or in Cup fixtures, and we have great relationships with them. Because it's our first fixture we will probably tend to do a mix-and-match in that game and try and get a lot of the squad some involvement.
"Whereas the following week, because we have games on successive days, that will allow us to play a lot of the players, but for much longer periods and really get them match-ready for the start of the season."
Season Ticket holders for the 2020/21 season will be able to watch both the Dragons and Munster fixtures as part of their seasonal package.