Chiefs create new partnership with Exeter Food Festival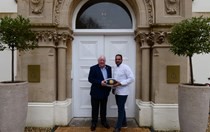 By Mark Stevens
25/2/20
Exeter Rugby Club's presence at the renowned Exeter Festival of South West Food and Drink is set to increase dramatically following the announcement today of a new partnership for this year's event.
In bringing together two of the city's leading attractions, the partnership will not only see the table-topping Chiefs increase their profile at the event, but tickets for the festival will be on sale through Exeter Events, Exeter Rugby Club's ticket site.
In addition, funds raised through bucket collections at the Festival will be donated to the charity of the Exeter Chiefs, the Exeter Chiefs Foundation, of which Festival Director Michael Caines MBE is also a trustee.
Speaking about the new collaboration, Michael Caines said "Working closely with the team at Exeter Chiefs has already made things much more exciting this year, the new ticketing system they have developed for us works well with the wider digital introductions we have made for the festival. Being able to support the Exeter Chiefs Foundation is just an added bonus that I am pleased we can offer, we are so excited to get the team involved and you may be seeing some familiar faces throughout the festival events."
Chief Executive of Exeter Rugby Club and Chairman of the Exeter Chiefs Foundation, Tony Rowe OBE, said: "We're sure this is going to be a great partnership for both parties, and Exeter as a city. Working together we can not only grow the Festival, but add value through some player involvement and our Community activities for children.
"It's an added bonus that the Exeter Chiefs Foundation will be the Festival's nominated charity, which will be bolster funds available for projects in the City."
The 2020 Exeter Festival of South West Food and Drink takes place in Northernhay Gardens between Friday, May 8 to Sunday, May 10. Tickets will be on sale from 12 noon on Wednesday, February 26 from foodfestival.exeterevents.co.uk