Chiefs duo in Spanish squad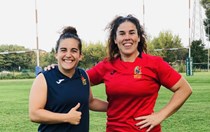 By Harry Scott-Munro
13/9/21
Exeter Chiefs prop Laura Delgado will lead Spain into action as they take on Ireland in today's 2021 Women's Rugby World Cup qualifier in Parma, Italy.
Delgado will lead a powerful Spanish side, which also includes Chiefs team-mate Patricia Garcia, who starts the contest at scrum-half.
The action gets underway later today (5pm) with Scotland, Ireland, Italy and Spain all competing in a round-robin tournament to decide the final qualifiers. The winner of the tournament will qualify directly for the World Cup with the second-placed side advancing into a final play-off for the 12th and final spot in New Zealand.
Ahead of the match, Spanish Head Coach José Antonio Barrio has made a raft of changes to his match-day XV from Spain's last competitive match against the Netherlands in February, with seven new faces in the side.
Looking ahead at what will be a defining fortnight for his side, Barrio admitted that his side are well aware of just how much is riding on their results.
"We believe that the European Qualifying Tournament will be tight and short, where you put on the line the work of four years under many variables."
Spain will be without flying winger Alba Vinuesa for the opening match, after she scored four tries against the Netherlands. Despite her absence from the match-day side, Vinuesa is still relishing the opportunity for her and her team-mates to test themselves against three established 6 Nations sides.
"This European qualifying will be a big challenge playing against Six Nations teams. We must prove that are worthy of playing at that level. If we qualify, then will be the time to think on New Zealand."
Supporters who wish to watch the matches, will be able to do so via the World Rugby YouTube and social media channels.
SPAIN TEAM vs IRELAND
15. Iera Echebarria
14. Bea Dominquez
13. Amaia Erbina
12. Amalia Argudo
11. Maria Garcia
10. Anne Fernandez de Corres
9. Patricia Garcia
1. Saioa Jaurena
2. Marga Rodriquez
3. Laura Delgado (Capt)
4. Anna Puig
5. Monica Castelo
6. Olivia Fresneda
7. Maria Calvo
8. Lourdes Alameda
16. Isabel Rico
17. Cristina Blanco
18. Maika Brust
19. Carmen Castellucci
20. Carmen Rodera
21. Lucia Diaz
22. Lea Ducher
23. Eva Aguirre