Chiefs enjoy day at Ladram Bay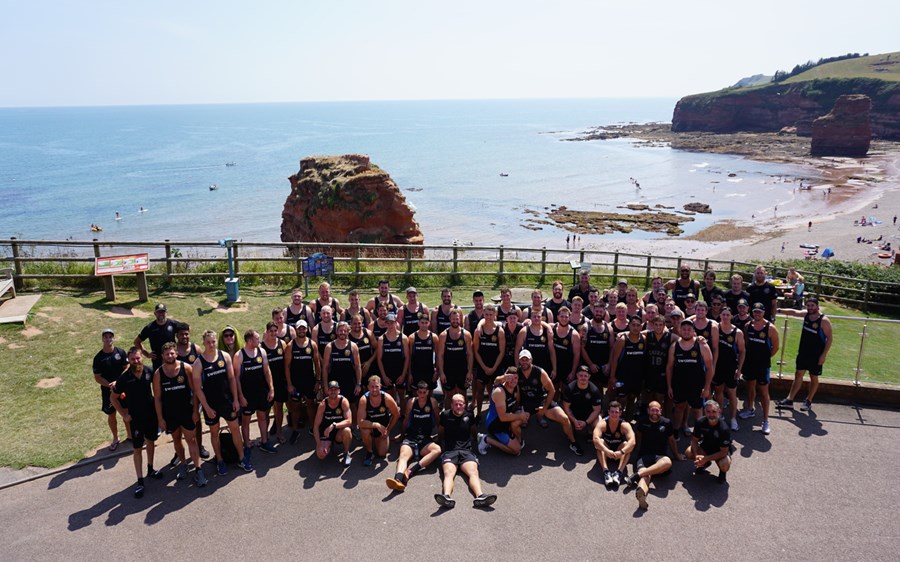 By Mike Smith
5/8/19
A beach in East Devon is perhaps not where you'd expect to find more than 50 professional rugby players being put through their paces, however this is exactly where the Exeter Chiefs were last week.
An afternoon of challenges was organised at Ladram Bay Holiday Park to reward the hard work of the squad, who until now have undertaken their pre-season training primarily at Sandy Park. Skills games were set up in the top field, swimming and paddle boarding races were organised at the beach, plus use of the holiday park's state of the art climbing wall.
Head of Strength and Conditioning, Mark Twiggs, said: "As has become a regular thing in pre-season now, we work the players fairly hard but we always try to create a balance between hard work and enjoying a bit of Devon life.
"The guys get to engage with the locals, get to enjoy the facilities, it's 25 degrees here in Devon with a lovely sea state and they get to go in the sea, and enjoy the environment and everything else that the county has to offer."
Also in attendance was Director of Rugby Rob Baxter, who welcomed the change of scenery for the boys and was thoroughly impressed by what was on offer for his Chiefs squad. He said: "This is absolutely fantastic and so nice for a local business to ask us to come down and use their facilities on a day like today. The guys are getting to use paddle boards and swim in the sea, we're on the climbing wall and have use of various fields for running around and training with enough room for parking and the things that we need to do. It really is a stunning location and a fantastic day, and a nice reward for the players working so hard as they have in pre-season."
Twiggs added, "The players have had a really good day here today, they've worked really hard on the different events that they've been doing and I think that everyone has enjoyed it. I can say from all of them and all the staff a big thank you to all the staff at Ladram Bay Holiday Park for all that they've laid on for the players. They've been first class, we've enjoyed the company of all the staff, from top to bottom, and the players have been really complimentary for all that they've done."
The squad now have one more week of pre-season training before they have a short break, prior to returning to Sandy Park for the lead up to the start of the season on Saturday, September 21st.
Tickets are available for all confirmed games at the Exeter Chiefs Ticket Hub.