Chiefs have more to come - van der Velden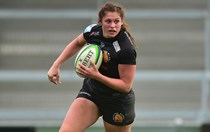 By Harry Scott-Munro
27/10/20
Exeter Chiefs Women's captain Linde van der Velden insists the newly-formed side will continue to grow in the Allianz Premier 15s, this despite slipping to a third successive defeat against Harlequins last Saturday.
Having coming up against two of last season's top four sides in Gloucester-Hartpury and Harlequins, as well as Westcountry rivals Bristol Bears in their opening month of action, it was always going to be a tough challenge for Susie Appleby's side, even without the challenge of players returning at different points in pre-season due to Covid-19 restrictions.
However, the Chiefs have shown they are more than capable of holding their own in the top-flight, a point underlined by their on-field leader.
"We had a lot of good moments, there were phases when we really showed why we deserve to be here," said van der Velden following her side's 33-14 loss away to Harlequins.
On what was a tough afternoon for the Chiefs, played in atrocious conditions at the Surrey Sports Park,the visitors trailed 21-0 at the break, then 33-0 in the second-half, before they finally found their footing with two well-deserved scores towards the end of the match.
"Sometimes we weren't aggressive enough," explained van der Velden. "That said, we're still a growing team and it's good to see that sometimes when the shape works – andwhen we can find each other – we are playing very well.
"What people need to realise is that some of the girls have only been with us for two, three, four weeks. The rest have been together for 12 weeks, so I think the rest of the season we'll be growing every training session, every game and it'll be really exciting what's going to happen for the rest of the season."
Reflecting on her own experience with Exeter Chiefs since joining, van der Velden was full of praise for the culture that has already been created within the squad.
"It's been going really well," she said. "To be honest, I'm really enjoying it here, it's an amazing bunch of girls and an amazing team. The start was really good as well and I feel like it's an amazing place to develop myself, so I'm really enjoying it.
"It couldn't be better," she continued, before laughing and admitting that "the weather could be sometimes!"
The autumnal English weather aside, van der Velden remains certain that her side are continuing to develop, adding: "We're on the right track. We have to think about the fact we have been together for 12 weeks. The rest of the league have been together for years. The only thing that's important I think, is that we show we deserve to be in this league and in the last few games we have shown we definitely deserve to be here so we're just going to work hard."
With no game this weekend, the Exeter Chiefs Women return to action on Saturday, November 7, taking on Worcester Warriors at Sandy Park. (2.30pm)