Chiefs in good shape, insists Baxter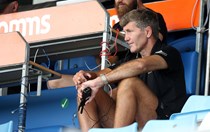 By Mark Stevens
10/8/20
Rob Baxter insists his Exeter Chiefs side have ticked as many boxes as they can ahead of Saturday's return to Gallagher Premiership action against Leicester Tigers at Sandy Park (2pm).
With the table-topping Chiefs inactive since they defeated Bath 57-20 back in early March, the chance to get their campaign back up and running is something Baxter and his players are itching to do having now advanced their way through the various stages of returning to play.
The Covid-19 pandemic has caused no end of woe across all corners of the world, but at last there is light at the end of the tunnel for English rugby's top flight.
This weekend's fixture will kick-start what should be an action-packed three months for the Chiefs, who are also hoping to challenge on the European stage as well with a quarter-final date against Northampton Saints pencilled in for next month.
It is little wonder that Baxter cannot wait for the action to unfold. Speaking following a second in-house game involving much of his first-team squad, the Chiefs' Director of Rugby spoke of his excitement.
"I am excited about getting back to playing," he said. "I say that because I believe there is a fantastic challenge ahead of us. I'm also excited as it feels like we're moving forward a bit as a country around sport. This weekend we'll have a number of Premiership games on TV, then a few more after that and then, hopefully, we can perhaps look forward to welcoming some smaller crowds in.
"Not only as a club, but also as a business, it's important we move forward. It's all well and good to say our games are coming up and they'll be on TV. That's great, of course it is, but rugby clubs at this level need more than games on TV, they need paying supporters coming through the gate, enjoying the game and buying pints of beer. That's what professional sport is all about.
"What's exciting right now is that the games are coming, but what is more exciting his that hopefully it won't be too long before we are able to welcome our supporters back into Sandy Park."
With or without supporters close at hand, the Chiefs will look to pick up their Premiership campaign in much the same vein as they signed it off back in March. On that occasion, the Devonians were in scintillating form, brushing aside the challenge of Bath with consumate ease.
Since then, squads across the division have seen numerous changes, including at the Chiefs where they have lost the likes of experienced stars such as Greg Holmes, Nic White, Matt Kvesic and Sam Hill, but have drafted in proven talent in the form of Scottish internationals Jonny Gary and Sam Hidalgo-Clyne, as well as highly-rated young guns Corey Baldwin, Facundo Cordero, Josh Hodge, Aaron Hinkley and Jack Walsh.
Many of the newcomers have been utilised in the past fortnight as the Chiefs got themselves up to speed with two physical internal games. They teamed up with a largely untouched rest of the squad, which has been bolstered by the return to fitness of players like Alex Cuthbert, Jack Innard and club captain Jack Yeandle.
Baxter admits he's been delighted with the way in which his squad reported back for training from lockdown - and their subsequent efforts in the three stages of training.
"The best thing that this group of players have done is they've made selection for the Leicester game very tough," he explained. "That's the single best thing that you can ask them to do. You need to have tough selection decisions because within the month they would have all played anyway in the Premiership.
"Looking at how we are, it's an interesting position to be in. For quite a lot of the players, they would not have experienced playing an in-house game. In the past it used to be something that was relatively common, you would build it into your pre-season, but we haven't done one for a few years now.As I said, it's been a unique experience for them and they've dealt with it well."
Certainly, every player has staked their claim for a role in Saturday's encounter against the Tigers, including many of Baxter's new arrivals.
"Obviously these games have allowed us a chance to get guys like Jonny Gray up and running," said Baxter. "Looking at how he's done, he looks fairly comfortable in all of the systems that we're running and it's been the same with Sam Hidalgo-Clyne as well. Elsewhere, the young lads - Aaron Hinkley, Jack Walsh and Josh Hodge - they've done really well, but we've not seen too much right now of Corey Baldwin because he's had a slight niggle and Facundo Cordero is only just getting up to speed with things.
"Those guys, together with a number of our young academy lads, have really shown up well. In some cases they've gained some great experience and we've got some young front-row lads who have theoretically played in a Premiership game now, which is fantastic and will only speed up their development. Those things are sometimes things that we forget about, but we've actually been able to accelerate the learning of a few people through our in-house games, so that's going to hold us in good stead moving forward."