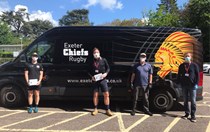 By Mark Stevens
4/5/20
Exeter Rugby Club's work within the local community during the current Covid-19 outbreak is continuing with some of the club's fleet of vehicles being used to help deliver vital PPE equipment across Devon.
Answering an SOS call for volunteers to help aid the NHS Devon Central Commissioning Group, Chiefs team manager Tony Walker got in touch with project manager Nigel Gooding, a familiar face in South West rugby circles, volunteering the services of staff and any equipment at the club.
With demand for PPE equipment essential, not just in hospitals, but in doctor surgeries, care homes, pharmacists and other care providers, the Chiefs match-day kit van is being utilised to help send a wide range of items across the county.
Face masks, hand sanitisers, aprons, gloves, gowns, googles, visors and respirators are among the items that are being shipped out from County Hall in Exeter by volunteers from the Chiefs.
"The input of Exeter Chiefs in helping the NHS Devon Central Commissioning Group has been fantastic," said project manager Gooding. "Obviously, through my links with the Rugby Football Union and putting out the call locally, I wasn't surprised to see the Chiefs say they would get involved.
"I spoke with Tony Walker and I said to him that we needed a big van, plus a bit of muscle from some people, to help with the collections. He said 'no problem' and that's how we've got the Chiefs involved. Everyone knows they are a big part of the local community, so it's great that they are stepping up at this difficult time for all of us."
Since the country was put in lockdown back on March 23, the Chiefs have been carrying out a series of activities aimed at supporting the local community.
It began with the club's official charity, the Exeter Chiefs Foundation, giving a grant of £100,000 to help the new support service, Exeter Community Wellbeing, and it's continued with donations of unused stock from Sandy Park being given to staff and patients at the Royal Devon & Exeter and Musgrove Park Hospitals, St Petrock's Homeless Charity and the Estuary League of Friends in Topsham.
Sandy Park itself has also been set up as a testing centre for staff from the RD&E Hospital to utilise, while the Chiefs players have themselves been active, albeit from home, taking part in the
#MakeThatCall campaign, an initiative started by Premiership rivals Wasps, which has seen all 12 top-flight clubs take part in. The aim of the campaign sees players telephone supporters of the club and check on their well-being during lockdown.
Other initiatives carried out by the Chiefs have seen special Q&A sessions on social media, weekly quizzes, exercise and educational videos, colouring competitions and even a special home baking evening with Chiefs and England prop Harry Williams.
Tony Rowe OBE, Chairman and Chief Executive of Exeter Rugby Club, said: "Exeter Chiefs considers itself very much at the heart of the community locally and this is our way of giving back to that same community who give so much to us in return during these very tough times.
"Whatever we can do as a club, no matter how big or small, we want to be involved. These are tough times for all of us, but together we can make a real difference."