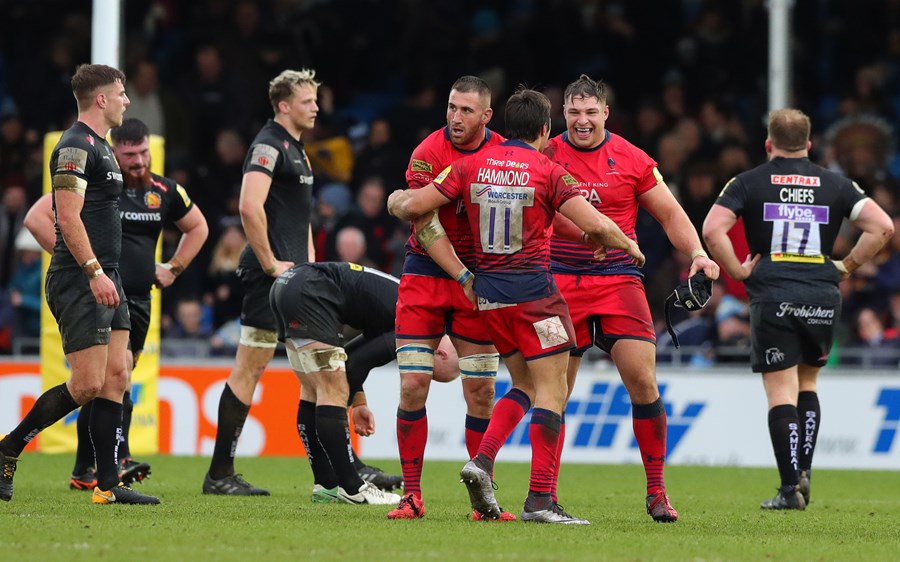 By Mark Stevens
11/2/18
Rob Baxter felt his Exeter Chiefs side "lacked bite" after they slipped to a 6-5 defeat at home to Worcester Warriors in the Aviva Premiership.
The loss - Exeter's first in the top flight at Sandy Park since Bath won in October 2016 - marked a frustrating day for Baxter and his players, who were distinctly off colour against the spirited and workmanlike Midlanders.
Chris Pennell's two first half penalties proved enough for the Warriors, who despite conceding a second half try to Exeter lock Mitch Lees, held firm under heavy pressure to claim a first Premiership win over the Chiefs.
Defeat for the reigning champions, coupled with Saracens beating Newcastle Falcons at Allianz Park, meant Exeter's lead at the top of the table has been cut to just two points after 14 rounds of battle.
Post-match, a disappointed Baxter gave his verdict on his side's showing, saying: "The result was - as it is with most Premiership games - what you deserve. We don't win games like we do without deserving it - and you don't win Premiership titles without deserving it. We didn't lose today without deserving it.
"It is rare for us to only score five points and it's rare for us to lose a game where we have only conceded six. That said, you have to give Worcester great credit for how they played. They have kept us to five points, they were a lot more physical than us, they won a lot of the breakdowns and they killed our momentum, which in turn created probably for us around the ruck area. In the end, the result was what it was."
Up against the elements in the first half, the Chiefs would have been relatively happy to have only gone in training by six points at the break. However, despite cutting the deficit through Lees, skipper Gareth Steenson was unable to convert the score, his kick cannoning back off the right post.
"There are lots of little bits and pieces for us to work on," added Baxter. "I think first and foremost there has to be that determination to get through the training week absolutely first class. If you do that, then you have to turn up on game day and be equally as good. Today, we weren't any of those and the result was what it was.
"As I said, I don't want to make any excuses. What I've said to the lads is if you want to walk around as champions of England, then you have to fight for that. You have to fight like a contender to stay there."
Baxter also played down media talk that his side were perhaps a little under-cooked, having rested a large bulk of the match-day squad over the past fortnight.
"It's easy to say things in hindsight," explained Baxter. "It's difficult because when you are not involved in the top flight European competition, I think there is an argument to get a bit of rotation into the squad because you can rotate through the Challenge Cup and the Anglo-Welsh Cup and it will keep you ticking over.
"Last year we rested up a number of guys through the same period and we still managed to stay on a winning run that took us all the way to the Premiership. Yes, in hindsight, would some of the lads have been better playing last week? Probably.
"However, if in three or four weeks' time or we get to another semi-final, would we better having given them the break? That's when you have to hope it will pay off. For now we'll take today's result on the chin and come Tuesday when we come back in, we'll look to train hard and clear's today's performance out of the system and get ready for a big game against Wasps."