Chiefs remember the fallen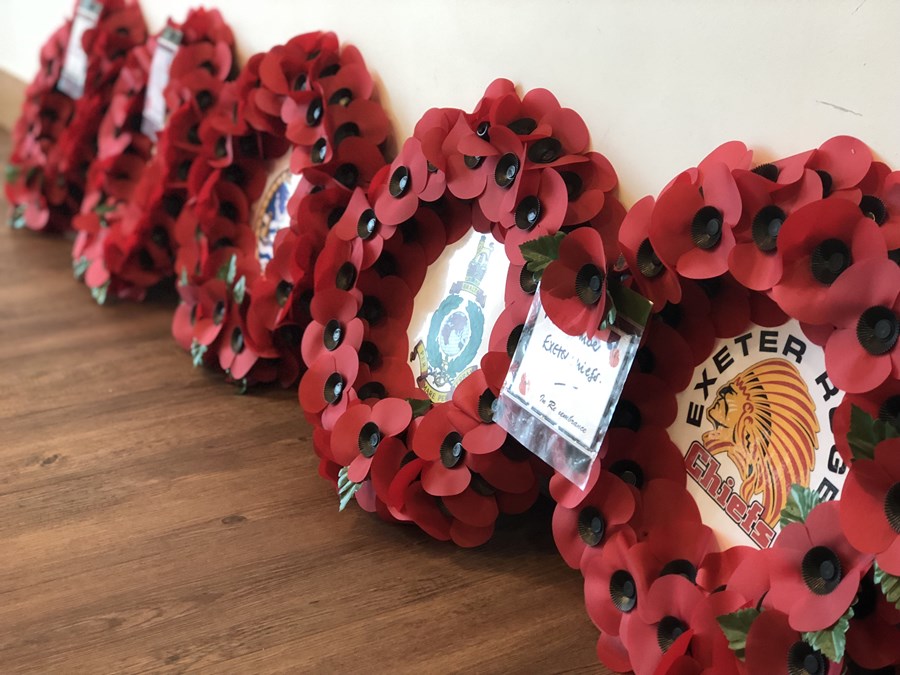 By Mark Stevens
10/11/17
Exeter Chiefs players and staff, together with leading club officials, members of the Armed Forces and supporters formed the congregation for a special Remembrance Service held at Sandy Park.
Conducted by club chaplain Simon Atkinson, the Service of Remembrance paid tribute to those former club players - and other servicemen and women around the world - who had paid the ultimate sacrifice in conflicts around the world.
For years, Exeter Rugby Club have proudly displayed within the County Suite a memorial plaque of the names of those former players who paid the ultimate sacrifice during both the First & Second World Wars.
The names of all those former players were read out by Club President Bob Staddon, whilst chairman and chief executive Tony Rowe OBE and Director of Rugby Rob Baxter marked their respects with various readings.
Also during the service, Mr Rowe laid a commemorative wreath on behalf of the club, as did Commander J Patterson from Britannia Royal Naval College in Dartmouth; Lt Mikaela Rees-Swindon from HMS Defender; Col Mike Tanner, Commandant of the Commando Training Centre Royal Marines, Lympstone; WO1 Dougie Davit, Regimental Sergeant Major; and WO2 EJR Drake, 6 Rifles
Bugler Dave Nevatte of the Royal Marines Band sounded both the 'Last Post' and 'Reveille' before the service was wrapped up with a moment of reflection and the national anthem
The names of the former Exeter Rugby Club players killed in battle
WORLD WAR ONE
G.H BICKLEY
H.J CARRINGTON
J.H COOK
G.H CULVERWELL
W.J EDMONDS
W.S GOFF
S.E HUCKLEBRIDGE
E. JONES
M.H.D PARSONS
C.E. TUDOR-JONES
J.L VEITCH
A.H WEBBER
WORLD WAR TWO
W. CANN
H. COOMBE
P. DAVIS
N.J GALBRAITH
A.C GOLTLING
F.J JOB
P.H LAWLESS
W.M McGRATH
C.M OSMAN
G.T PALMER
A.J RADDON
H. REW
M.S SMITH