Chiefs side to face Harlequins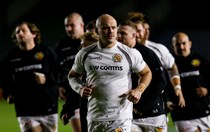 By Mark Stevens
7/1/22
Rob Baxter insists there is still 'more to come' from his Exeter Chiefs side as they hit the halfway stage of the Gallagher Premiership tomorrow with a trip to defending champions Harlequins (3pm).
Currently sat fifth in the current standings, the Chiefs Director of Rugby is content with his squad's overall showing so far this season, particularly given the loss of key personnel for the early rounds of the campaign.
Last weekend's 19-13 home win over near neighbours Bristol Bears gave the Devonians the perfect start to the New Year – and Baxter is hopeful it will act as the ideal launch pad for his team to kick on further, starting with this weekend's trip to the capital.
"I'm kind of okay with where we are," said Baxter. "We always knew the start was going to be a challenge, particularly with the injuries we had in the back five of the scrum, plus the unavailability of the guys who had been away with the Lions.
"It meant things were slightly broken up, but that's happened, we've just got on with things. The things that make it look less comfortable are those two narrow home losses to Northampton and Newcastle. Flip those results the other way round and we'd be looking quite comfortable for a team who went through all that unavailability.
"People would then be looking at Exeter and thinking about the strength of our squad and how well we have done to get through that period without some key people.
"As I said, we're okay with where we are, but I know there is more to come from us. We're not at peak performance by any means, but we will get that in the future. The challenge for us is that other teams are also performing well and league is very tight. The table changes every week with sides going up and down, we just have to make sure we are the side that is going up."
In what is the first meeting of the two clubs since last June's Gallagher Premiership Final, which the Londoners edged 40-38, there is genuine excitement ahead of the fixture of tomorrow's meeting serving up another classic encounter.
"We want to be in the top four challenging, so the pressure is on us to perform," added Baxter. "Last week was pleasing and was another step in the right direction for us. In a lot of ways it was more about the performance than the result which I liked the most.
"There was a real sense amongst the supporters and the players – and you could see it in the training week leading into it – that we found a bit of our mojo and a bit of alignment. There was an extra energy, an extra drive, which all came through in the performance.
"Now, we have to take all of those ingredients and put them together again for this weekend against what will be a very good Harlequins side. We know going up there will be tough, but that's kind of what you expect every week in the Premiership. There should be no easy games and you should expect to be challenged."
Certainly, Harlequins underlined their threat in last season's final – and they have continued it into this current campaign, where they sit third in the table, six points ahead of the Chiefs.
"Harlequins deserved to win the final, I've no problem with that," continued Baxter. "The frustration I have is that we probably put ourselves in a position where, those final weeks of the season, we didn't really accelerate into those games. Our performance against Northampton (away) and Sale (home) were funny, it was like we were trying to manage our way into the semi-final.
"We won those games, but not with what you'd call a real authority in our game. The semi-final against Sale was better, but then we almost drew breath again and never got our foot down again. We never went for the Harlequins jugular and that's kind of what bothers me – and it's probably what bothers the players now.
"I can take wins and losses all the time, but you tend to win the games in which you deserve to win. We didn't deserve to win the final. It was not the loss as such which hurt, it was more our performance on the day."
Baxter added: "Looking at Quins this season, they seem just as good now as they were that day. They are clearly very comfortable with how they are playing and they look like a side who are enjoying their rugby. Personally, I like watching them play, but I also realise the threat they bring, so it's up to us as a squad to make sure we bring more of the key elements to the game this weekend than they do.
"A bit like we said ahead of Bristol, we have to challenge ourselves in a way that brings the best out of us. Our key focus must be on what we want to get from the game and how we want to play."
Squad news for the Chiefs sees Baxter tinker slightly with his winning formula. The unavailability of front-row duo Luke Cowan-Dickie and Sam Nixon mean Jack Yeandle and Josh Iosefa-Scott are brought into the starting line-up, as are Facundo Cordero and Ian Whitten, who replace Tom O'Flaherty and Ollie Devoto.
The only other change sees Jonny Gray return in the second-row with fellow Scottish international Sam Skinner dropping down to the bench.