Chiefs side to face Munster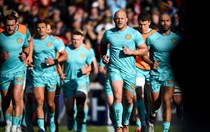 By Mark Stevens
15/4/22
Rob Baxter has challenged his Exeter Chiefs players to go and 'finish the job' in tomorrow's Heineken Champions Cup encounter with Munster Rugby at Thomond Park (3pm).
A week after the two locked horns at Sandy Park, the two European rivals will square up again in the second leg of this Round of 16 showdown.
It is, however, the Chiefs who hold a slender five-point advantage at the halfway mark, Baxter's side securing a 13-8 lead thanks to Stuart Hogg's try and drop-goal, plus a further score from Jacques Vermeulen.
Tomorrow, though, the Chiefs will have to go again and Baxter has used this past week to instil into his players that the task is far from done.
"We have to go and finish the job," said the Chiefs Director of Rugby. "It's a difficult scenario – and I know everyone will be feeling the same a little bit – you don't go home after the game and say that was a good win, a really important win and it's gathered something for us. Whereas, you would say that after a group stage win in Europe, where you know you have collected four or five really valuable points in the pool
"You can't really judge the success of the first leg until you have played the second leg. Having said that, if we talk just about the performance last week, I was really pleased. It looked like we had found something about us that will make us a very hard team to beat. In any successful side, that's the first quality you have to have.
"Probably the thing that has created that little bit of inconsistency in our play this season is that we have been that little bit easy at beating ourselves. That's hampered us slightly, but the one thing I though we didn't do last weekend was beat ourselves."
Certainly, the Chiefs demonstrated enough, both in attack and defence, to back up Baxter's claims and now the Exeter leader is hoping for more of the same in what will be a hostile Thomond Park this weekend.
"People have been saying Munster will create this and Munster will create that, the reality is we have to create something ourselves," added Baxter. "I want us to go over there and create a great, emotional performance ourselves. I want to see our guys look at each other in the changing rooms, nod their heads, and go out there and create the game we want to win the game.
"We have got a lot of pride and a lot of desire to do well in this competition. It isn't just about other teams, it's about us as well. We are going to out there and play to win the game."
This weekend's scenario mirrors somewhat that of 2010 when the Chiefs faced Bristol in the inaugural RFU Championship final.
On that occasion, Exeter held a three-point cushion after the first leg before then blitzing their Westcountry rivals in the second leg to secure promotion into the Premiership for the first time in the club's history.
Baxter acknowledges he's similarities and will use the experiences of that time to help prepare and bolster his squad for the task ahead.
"People forgot we won the first leg back then," he said. "Yes, it's a similar scenario, but like then, all we are focused on is winning two games of rugby. We did what we had to win the first game and we did what we had to do to win the second game. Our approach this weekend has to be very similar.
"Sometimes you can make things really complicated for yourselves if you look into doing this or that. Personally, I think the teams that will do well in this round of the competition will be the teams who win both legs."
In what is yet another 'do or die' scenario for the Chiefs, Baxter's admits that understanding the situation is indeed helping to bring the best out of his players.
"We've effectively been playing semi knockout rugby for the last three or four weeks," he continued. "We're kind of used to that feeling. At the same time, I do feel that excitement is helping to bring the best out of the players. Fresh challenges like this are often the best challenges.
"It's not like we've not been in this situation before, we've experienced this a fair bit, both in the Premiership and in Europe, and it's created a challenge which I know our lads have embraced. I want our lads to go over there and relish being in this environment and testing themselves at the very top end."
Team news for the Chiefs sees Baxter make just one change to his starting line-up from last weekend. That switch sees Jannes Kirsten promoted from the bench to start in the back-row in place of Sam Simmonds, who has picked up a hip injury. Kirsten will come in at openside flanker with compatriot Vermeulen reverting to No.8. On the bench, Billy Keast is preferred to Ben Moon as the loosehead back-up; Santiago Grondona fills the void left by Kirsten's promotion, while Tom Hendrickson replaces Harvey Skinner as one of the three backs replacements.