Chiefs side to face Saints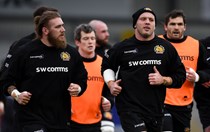 By Mark Stevens
19/2/21
Exeter Chiefs Director or Rugby, Rob Baxter, says he and his fellow coaches are getting 'huge satisfaction' from the way a number of the club's up-and-coming players are adapting to life at the top level.
Youngsters Marcus Street, James Kenny, Richard Capstick, Harvey Skinner and Josh Hodge have all played their part in recent weeks, helping the reigning Gallagher Premiership champions put together a current three-game winning streak, thanks to triumphs over Worcester Warriors, Newcastle Falcons and London Irish.
Tomorrow, the quintet will feature once more as the Chiefs welcome rivals Northampton Saints to Sandy Park for their latest top-flight assignment (3pm).
Teaming up alongside a glut of more established Chiefs names, they will be entrusted with the task of maintaining the Devon club's lofty position within the Premiership as it heads towards the halfway stage of the season.
As has been the case throughout Baxter's tenure in charge, the Chiefs leader has never been afraid to give youth its chance. However, those youngsters need to replicate that faith shown in them by subsequently producing themselves in terms of performance, work-rate and attitude.
"Of course you get real satisfaction when you see young players come in and perform like they do," said Baxter. "As a club, we work hard on not only our recruitment, but also the quality coming through our academy. It's not just my job, but also that of the other coaches here, to not just worry about the game today, but where we will be as a club in three, four, five years' time.
"So for us to have a group of players like this, all of whom are showing real Premiership promise, is not only hugely important, but also very satisfying as it keeps us looking forward with a bit of enthusiasm of what is ahead."
Baxter continued: "Over the last two years, I've spent a lot of time looking at recruiting the right sort of young player who can fit into this group. I don't want for us to look at this period now, where we have just won trophies and think it was a one-off, I want us to keep driving through that quality of team.
"As I said, I think it's great that we are starting to see these young players really starting to flourish because it's not been easy for them. I don't mind saying, we have probably been tougher on them in terms of their reviews and their performances, than we have on the senior players. They have to turn up each day as winners, not just be happy with being in the first team, and contribute to our success.
"To a man, though, that is what we are seeing. What we are seeing in both Cappers and Streety is huge growth from where they were 12 months ago. On Saturday, you saw the same with Josh Hodge, he's come up massively since last season – and it's the same with Harvey Skinner. I was sat there watching last week's game and saying 'we're fine here' even though Joe Simmonds had just gone off. That is the feeling we want to have."
Now, Baxter will want more of the same from the group with Capstick, Hodge and Skinner all starting tomorrow against the Saints. Fly-half Skinner is one of two changes to the Exeter back division, replacing Joe Simmonds who will start this game on the bench, while Hodge switches to the wing in place of Alex Cuthbert, meaning Scottish captain Stuart Hogg will come in at full-back.
It's another powerful array of talent on show for the Chiefs, but Baxter says his side will need to be on top of their game against familiar foes in Northampton.
"We've played them a lot in recent times, what with the make-up of the calendar and playing them in the quarter-finals of Europe as well," said Baxter. "In all those games, we've always found them a tough challenge and we're expecting much the same this weekend.
"What we have to do, however, is replicate what we've been doing these last three weeks. That means not trying to over complicate things or make it too difficult, but instead just focus on those foundations elements which have served us so well. That is to go out on the field, work hard for 80 minutes, be tough, stick together and stay disciplined.
"That is what we have done really well, both in two tough away games at Worcester and Newcastle, but then doubling it up last week against London Irish where I thought we were fantastic. Our energy and our enthusiasm in defence was spot on and that allowed us to control the gain line, while in attack we started to purr a little bit.
"Obviously, conditions were more favourable last week, but I'm not so sure it will be the same this weekend. Therefore, all we can really promise is to continue working hard and being tough defence, because if you do that, you give yourself a great chance to win a game of rugby."
Tomorrow's match will be shown live on BT Sport Extra 1 HD from 3pm.
EXETER CHIEFS SIDE TO FACE NORTHAMPTON SAINTS
15 Stuart Hogg
14 Tom O'Flaherty
13 Tom Hendrickson
12 Ollie Devoto
11 Josh Hodge
10 Harvey Skinner
9 Jack Maunder
1 Alec Hepburn
2 Jack Yeandle (capt)
3 Harry Williams
4 Will Witty
5 Sam Skinner
6 Dave Ewers
7 Richard Capstick
8 Sam Simmonds
16 Jack Innard
17 James Kenny
18 Marcus Street
19 Don Armand
20 Sean Lonsdale
21 Sam Hidalgo-Clyne
22 Joe Simmonds
23 Ian Whitten