Chiefs side to face Saracens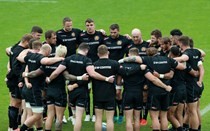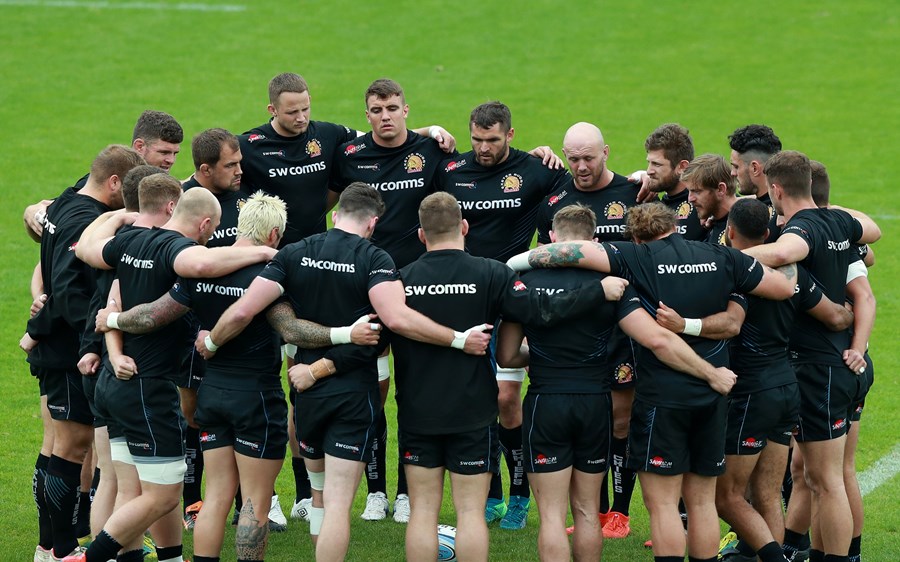 By Mark Stevens
31/5/19
In a week when Rob Baxter himself has come out fighting at claims his Exeter side are 'one-dimensional and boring', the Chiefs Director of Rugby is hoping his players have the same combative tendencies when they run out at Twickenham in tomorrow's Gallagher Premiership Final (3pm).
Back at English Rugby HQ for a fourth successive season, Devon's finest know they are just one big performance away from claiming their second Premiership crown in three years.
Standing in their way will be familiar foes, Saracens, who having twice toppled the Chiefs in the end of season showpiece, head into this contest still brimming with confidence having already collected the Heineken Champions Cup just a few weeks ago.
In what is a mouth-watering match-up between the league's two leading lights, something will have to give in what will undoubtedly be a brutal on-field war in which no quarter will be asked or given.
Having felt the pain of defeat to the Londoners this time last year, the Chiefs quickly regrouped at the start of this latest campaign with a mind-set that they would be back to challenge for glory once again.
As it's proved, Baxter's side have gone about their business with ruthless efficiency, sealing their place in the end of season play-offs in record-breaking time, before dispatching of Northampton Saints 42-12 in last weekend's semi-final at Sandy Park.
For some observers - and these include rival coaches and players of yesteryear now working within the media - the style in which the Chiefs have got to this very stage again has drew stinging criticism.
Not surprisingly, Baxter was quick to answer those claims, offering a balanced and well-informed take on just what makes his side deliver high-end performances week in, week out.
"All I will say is when people start making snap judgements on a style of play – and this is how I talk to our coaches and the people that work for me – is believe what you see with your own eyes," said Baxter.
"If all you want to focus on is the periods of play when we are five metres from the opposition line, then fine. If that's what you want to do, then do that. There are 95 other metres on a rugby pitch, so if you want to make a decision based on what you see when we are at one end of the field, make sure you add to it how you get there and the decisions you make to get there.
"I think Chris Boyd (Northampton's Director of Rugby) made the comment after the Northampton game about teams that teams that play with optimism have to find a way. Well, we didn't take a drop goal on Saturday. Northampton did. There is nothing that shows less optimism than taking drop goals.There is nothing in the sport of rugby that shows less optimism than that because you are not trying to score a try, do you see what I mean?
"Those are the kind of things that, if you want to talk about Exeter's five metre game, let's also talk about how we got there. We didn't take a shot at goal in the semi-final and I think every other team did, whether it be a penalty or a drop goal. We didn't. So who is the team playing with optimism?
"We actually don't mind how we score a try. We don't have one pre-determined way, we have a number of ways we go through it and if we score tries because we create five metre pressure, then we use that to score – fine. If we create 22 metre pressure and someone makes a break and we score – great.
"How we get the momentum and create pressure on the opposition where they give away a penalty and we kick to the corner, I think they should be applauded and show great optimism because teams don't give up penalties because you are not doing something right, or because they are not under pressure that you have created in a variety of ways.
"Open your eyes and actually see. Look outside that five metres if you really want to decide on how we play."
Indeed, anyone who has watched the Chiefs on a regular basis this season will know that whilst the Exeter eight can be devastating from close-range, behind the cupboard is equally well stocked, as underlined in the semi-final with two stunning individual tries for Joe Simmonds and Tom O'Flaherty.
Baxter added: "I guess what's being said is if you stop Exeter physically, then you have gone a long way towards doing the job...
"Well, is there any team that, if you don't stop them physically, that are good?
"This is the bit I find a little baffling. As I said just then, we can all watch a Saracens game and go: 'well, how did they play?' And you talk about Billy Vunipola when he's on the ball, Mako when he's playing, Will Skelton – they create huge momentum for them when they brush through tackles or run over people, or get to the far side of the tackle line. That's what allows them to play.
"So much in the game wouldn't happen without the ability of those players to run hard on the ball which creates space and movement.
"Would we like to be able to go off the top of a line-out in the middle of the field and run in a set piece try every time? Of course we would. It's not that we don't try!"
Like the Chiefs, Saracens have their own way of playing, offering an equally testing physical challenge for sides to overcome. Asked if there was any way the Chiefs would change their style for tomorrow - or the future - Baxter offered a quick riposte.
He continued: "I wouldn't say there's a danger of changing style, but there's a reality to the mistakes we have sometimes made against Saracens into feeling that you can't do anything. That's what they are great at defensively and it's probably the regret that we had coming out of the last final. When we reviewed it, we felt there was more there for us.
"We actually got caught in the gain line and the emotion of saying we were going to challenge on the gain line. To be fair, we did most of the game, but that wasn't where the game was won or lost.
"The game, particularly first half, was won by a couple of good attacks by Saracens; one was a chip and a chase and the other was a change of direction where they caught us because we hadn't reloaded properly.
"I look back on that first half and I regret that we weren't just a little bit mentally sharper because physically, we were bang on. Mentally, there were just a few moments in the game where we could have really exploited and that would have made it a really tight second half. As it was, that did us.
"We don't feel we need to massively change, but we feel we need to play. And when we play, that's what creates pressure, we don't want to start kicking from the halfway line. We never have done and we never will. It won't come to that."
Having toppled a full-strength Sarries outfit at Sandy Park back in December, it was the Londoners who won the corresponding fixture at the start of May when both teams opted to rest key personnel.
On both occasions, the Chiefs opted for the tactics of trying to rumble their way over from kicks to the corner, rather than shots at goal. It's a philosophy that has served the Devonians well in recent times, but according to their leader it's not a tactic that they always have to go for.
"As a philosophy, we leave it to the players to decide, which is what we do now, so it's no different," added Baxter. "We won the final by kicking penalties come the death, so it's not like we are adverse to doing it, or can't do it. It's how you build a performance you want over 80 minutes.
"The Christmas performance when we beat Saracens – I don't mind telling you want we did - we went to the corner. We didn't score from the first time we went there, we actually got turned over, but we scored from their line out.
"There's more than one way to create pressure by deciding if you go to the corner or the posts. A couple of years ago, Gareth Steenson knocked eight penalty goals over. He felt it was the right thing to do at the time and I think we knocked over 21 or 24 points worth of penalties, so we are capable of doing it.
"What I want the guys to do is to do what they feels gets them on the front foot and gets them most control in the game. "
As expected, Baxter sticks with an unchanged match-day 23 from that which won last weekend's semi-final against Northampton.
"We've been able to pick this week from our strongest group of players that we've had all season, which is fantastic," he said. "It's great to see Sam Simmonds and Sam Skinner get more game time after being out for a long period.
"That creates a really decent group of back five forwards which we will need over the 80 minutes and then I think we are aware that we have two good front rows and we need to make sure we utilise the work out of them over the 80 minutes.
"I think we have it in us, but we are going to have to be good because at the end of the day, it's like an all-international clash, isn't it? That's what it comes down to and if it was England v Wales, we'd be saying the same thing. It comes down to the guys that lock it down on the day and get it right."
CHIEFS SIDE TO FACE SARACENS
15 Jack Nowell
14 Alex Cuthbert
13 Henry Slade
12 Ollie Devoto
11 Tom O'Flaherty
10 Joe Simmonds
9 Nic White
1 Ben Moon
2 Jack Yeandle (capt)
3 Harry Williams
4 Dave Dennis
5 Jonny Hill
6 Dave Ewers
7 Don Armand
8 Matt Kvesic
16 Luke Cowan-Dickie
17 Alec Hepburn
18 Tomas Francis
19 Sam Skinner
20 Sam Simmonds
21 Jack Maunder
22 Gareth Steenson
23 Sam Hill