Chiefs squad for Singha 7s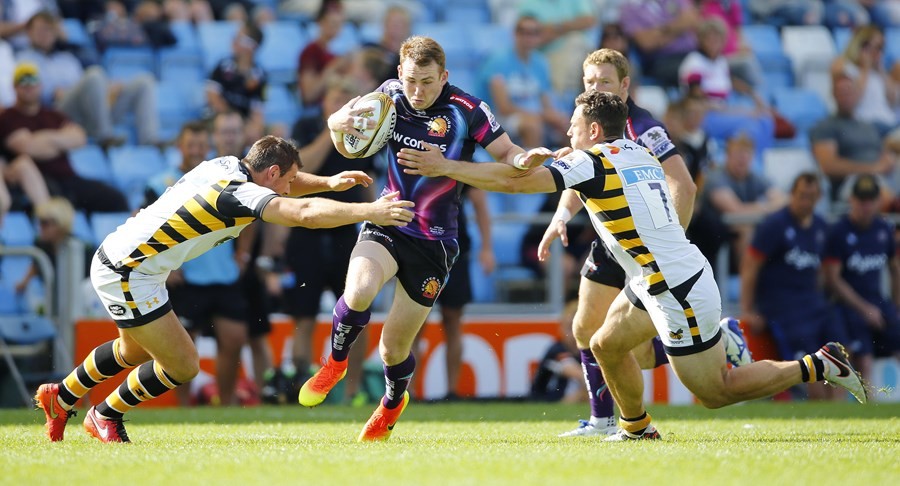 By Mark Stevens
25/7/17
Ricky Pellow says Exeter Chiefs are relishing the chance to kick-off the new 2017/18 season with a big showing at this weekend's Singha Premiership Rugby 7s tournament.
Defeated in the final a year ago, the Chiefs will travel to Northampton on Friday looking to go that one step further, having been denied at the death against Wasps at the Ricoh Arena.
Looking ahead to the annual event, which this year will be spread across two successive days at Franklin's Gardens, skills coach Pellow said: "We're all really excited about kicking off the new season. We've got a good core of players who featured last year and got to the final, so we're looking forward to hitting the ground running this weekend."
Included in the Chiefs ranks will be the likes of Max Bodilly, Tom Hendrickson and Pete Laverick, all of whom featured 12 months ago, and they will team up with summer signing Tom O'Flaherty and academy youngsters Joe Snow, Harvey Skinner and Joe Elderkin.
The University of Exeter offer a strong showing with Sam Morley, Sal M'Boge, James McRae and Kieran Kelly all included in the 12-man squad, which is completed with the inclusion of Plymouth Albion flyer Robin Wedlake.
Pellow added: "If you look at the group we've selected, it's a good mix of players who we feel can really perform on the sevens stage. Obviously there are one or two guys who have been part of this competition in the past, whilst it's a first opportunity for Tom O'Flaherty and a few of the junior academy guys to show what they can do.
"Going up to Northampton is always a great place to go and play, but we have to be on it from minute one. We've got Northampton first up, so I'm sure they are going to be gunning for a big performance in front of a home crowd.
"We've talked this week about keeping things simple, working hard for one another and just getting the basics of our game right. If we can do that, then you stand every chance of winning."
For all details of the Singha 7s and to buy tickets go to www.premiershiprugby.com/singha7s
CHIEFS SQUAD FOR SINGHA PREMIERSHIP 7s
1 Robin Wedlake
2 Pete Laverick (capt)
3 Tom Hendrickson
4 Sam Morley
5 Max Bodilly
6 Sal M'Boge
7 Tom O'Flaherty
8 James McRae
9 Kieran Kelly
10 Joe Snow
11 Harvey Skinner
12 Joe Elderkin