Chiefs U18s 19 Irish U18s 47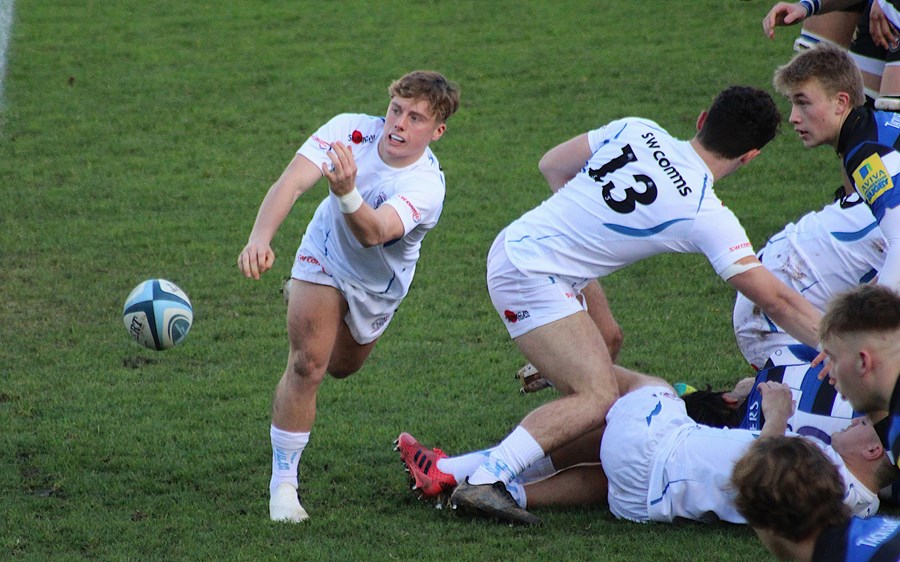 Exeter Chiefs U18s 19
London Irish U18s 47
Mark Stevens
After the high of beating Gloucester in their last outing, Exeter Chiefs Under-18s were brought back to earth with a bump by London Irish at Truro College.
The high-flying Exiles arrived in the Duchy with an impressive record in this season's Premiership Rugby Under-18s League - and it didn't take them long to get into their stride.
Three tries inside the opening 12 minutes gave the visitors a dream start, centre Matt Barrett claiming their first score, before winger Henry Arundell and prop Marcus Rhodes followed suit.
Fly-half Monty Bradbury converted all three tries, before the Chiefs countered with a try of their own from No.8 Ben Grubb.
It was, however, a momentary highlight for the home side, who fell further behind to further tries from Finley Brown and Arundell again.
With half-time approaching, the Chiefs worked an opening for skipper Tom Cairns to sneak over for their second try, converted by fellow half-back Iwan Jenkins, but at 33-12 down at the break, there was much for the hosts to do in the second period.
Irish continued to score during the second period, adding further converted tries through Joe Vajner and Jesper Hartikainen, whilst the Chiefs replied with a converted try from replacement Matt Pritchard midway through the half.
Following the 47-19 defeat, Academy coach Ruiari Cushion gave a pretty damning assessment of his side's display.
"As a squad we were really disappointed with how we dropped our level after a really promising performance the week before against Gloucester," said Cushion.
"Rugby is a huge amount to do with pressure, yet we put huge pressure on ourselves in terms of our physicality and contact skills. That in turn meant we failed to put consistent pressure on Irish.
"When you get a team who are top of the league, you need to control the collisions and stop their momentum. We let them dictate too much and it cost us."
On a positive note, Cushion did praise the never-say-die attitude of his team, adding: "We were really proud of how resilient our guys were as the game went on. They had moments they could have given up on the game, but they fought back and scored three really well-worked tries.
"Talking afterwards, what we feel is that you learn a lot from these games and we had over 55% of the match-day who were under 17. The key now is that we move on, we take stock of this game and that we get things in place quickly, so that we can finish the season strongly against Bristol."
Chiefs: C Levick; B Orchard, K Gentry (C McCaig 42), A Hill, F Nowell; I Jenkins (S Walker 53), T Cairns (capt, W Becconsall 53); E Pearce-Cowley (D Arthur 53), O Jeffrey (M Pritchard 53), B Williams (C Leigh 53); C Tshiunza, S Leworthy (T Woodward 46); M Hallam (E Baldry 54), J Elsworth (M Hallam 63), B Grubb.
Tries - Grubb, Cairns, Pritchard; Conversion - Jenkins
Irish: B Fitzgerald (J Hartikainen 50); H Arundell, W Joseph, M Barrett, F Brown; M Bradbury (N McGann 55), R Morgan (D Ormond 27); T Haffar, J Vajnar, J Keohane (M Summerfield 40); M Mason, E Zaimovic (N Teague 52); L Brooke (O Jansen 57), G Davis (O Jansen 26-35), M Rhodes (E Pawadyira 36-50, 57).
Tries - Barrett, Arundell (2), Rhodes, Brown, Vajner, Hartikainen; Conversions - Bradbury (5), Barrett
Referee: B Wood
Attendance: 250