Chiefs U18s 26 Bears U18s 43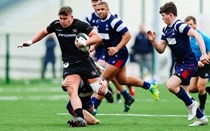 Exeter Chiefs U18s 26
Bristol Bears U18s 43
Mark Stevens
Exeter's Under-18s not only felt the full force of Storm Ciara, but they were also blown away by a powerful second half showing from rivals Bristol Bears.
In testing conditions for both sides, Marek Churcher's side were sadly unable to finish their Premiership Rugby Under-18s League campaign on a winning note at Truro College.
With first use of a howling wind at their backs, the Chiefs produced a powerful opening half to lead 26-5.
No.8 Ben Grubb scored the first of their four tries, the imposing forward touching down at the base of the posts following some robust work from his team-mates in the build-up.
Fly-half Iwan Jenkins converted to ensure maximum reward, only for the Bears to hit back with a try in the right corner from winger Benjy Toseland on 20 minutes.
The remainder of the first period, however, belonged to the Chiefs, who ensured the bonus point was safely in the back by the interval.
Flanker Joe Elsworth claimed their second converted try, working his way over from a close-range pick-and-go move. And he was followed over the whitewash by livewire hooker Harry Hocking, who marked his return to action by adding their third with a powerful leg drive that saw him charge his way through at least three Bristol defenders.
With the half all but up, the Chiefs extended their lead when young prop Ethan Pearce-Cowley forced his way over from another five-metre raid; Jenkins converted to give his side a healthy buffer heading into the second half.
Bristol used the break to not only regroup, but also assess the conditions which were now firmly in their favour. Whatever was said, it clearly had the desired effect as the Bears quickly clawed their way back into contention.
Tom Sims, Jamie Collier and Chay Mullins all claimed converted tries to haul them level at 26-all, before three tries in the final ten minutes from Spike Jangen, Mullins and Charlie Rice saw them storm to success.
Post-game, head coach Churcher gave his assessment on the game and the season as a whole for his young Chiefs.
"I thought we were very good in the first half," he said. "Everything we had talked about, we pretty much carried out and we got our rewards with the four tries. The second half, however, was much tougher.
"Against an ever-strengthening wind, we struggled to stay patient and forced things which allowed Bristol to catch us off guard and they deservedly ran in 38 points."
He continued: "Of course it's disappointing to end the season on a loss, but there are a number of positives we can take from not only this game, but the season as a whole. We've seen as the campaign has gone on, how the players have grown as a group and individually there have been some outstanding displays.
"What the guys need to do from here is make sure whatever they have learnt from the games, they now use to kick on and become better rugby players.
"What is also exciting is that a majority of this team are only Under-17, so having these experiences will hopefully prepare them better moving into next season's Premiership campaign."
Chiefs: C Levick; B Orchard, K Gentry, A Hill, F Nowell; I Jenkins (S Walker 54), T Cairns (W Becconsall 28-50); E Pearce-Cowley (D Arthur 46-65), H Hocking (O Jeffrey 46-65), H Wilkinson (B Williams 46-65); C Tshiunza, M Hallam (T Woodward 53); J Elsworth, J Bond (S Leworthy 40), B Grubb.
Tries – Grubb, Elsworth, Hocking, Pearce-Cowley; Conversions – Jenkins (3)
Bears: C Mullins; B Joseland, H Rowson, D Power (J Lloyd 47), O Holiday (R Schofield 35); T Wilstead, A Judkins (C Smith 39); A Turner (T Sims 40), T Gwilliam (J Curry 52), G Perry (A Thompson 16); S Jangen (M Duncan 65), C Rice; G Taylor (A Ashton 34), J Collier, M Duncan (S Taufa 47).
Tries – Joseland, Sims, Collier, Mullins (2), Jangen, Rice; Conversions – Wilstead (2), Lloyd (2)
Yellow Card: Collier
Referee: D Driscoll
Attendance: 150