Chiefs will learn from Sale defeat - Tuttosi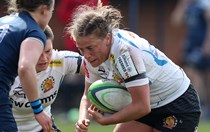 By Harry Scott-Munro
18/4/21
Exeter Chiefs Women's hooker Emily Tuttosi was left believing there are "massive lessons to take" after her side suffered a last minute defeat to Sale Sharks in the Allianz Premier 15s at Heywood Road.
In what was their penultimate fixture of their debut campaign, the Chiefs were undone at the death as Holly Bawden's converted score gave the Sharks a 17-10 victory.
Up until that point, the game looked to be heading for a draw after Lisa Neumann's try – plus a penalty from England international Katy Daley-McLean – had been cancelled out by a converted score from Exeter's Japanese prop, Sachiko Kato, and a penalty from Gabby Cantorna.
Reflecting on a disappointing afternoon, Tuttosi felt that her side sometimes overplayed their hand, focusing on the next phase before completing the initial task.
"I think sometimes we were just cart before the horse today," said the experienced Canadian international. "We need to focus on getting into those positions and then especially securing our breakdown. They were all over our breakdown and it definitely worked out in their favour."
The Sharks flew out of the blocks, notching an early penalty from Daley-McLean and Tuttosi admitted that despite improvements in the second half from her side, the hosts still maintained an edge throughout.
"They came out and got the early points on us," she added. "We were able to match it and then they ended up being more accurate than us. Especially the first half, they were dominating the contact points. In the second half, we definitely raised that, but we weren't accurate enough across the board."
Talking about the final play intercept that ultimately cost her side the match, Tuttosi was quick to credit the home side for their reading of the game.
"That last play, it was a good pick-off and they knew that we had to play out in the dying minutes."
Attention now turns to a crucial match on the final day against Gloucester-Hartpury, with the winner of that match likely to take 5th spot in the league. Having played Gloucester-Hartpury in their first game as a side back in Round One, Tuttosi wants her side to search for a "positive outcome" and end their first debut season on a high note.
"The season isn't finished yet and we've still got a huge match against Gloucester who we played in our first game so now we get to finish the season on that," she explains. "We'll now work towards a better performance and hopefully a positive outcome there which will be the focus for the next three weeks."