Chiefs Women 90 DMP Sharks 7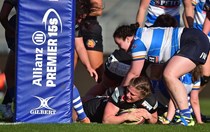 Exeter Chiefs Women 90
DMP Sharks Women 7
Harry Scott-Munro at Sandy Park
Lots of sun and lots of tries. Exeter Chiefs Women couldn't have really asked for any more at Sandy Park, as they put in a simply jaws-ome performance to brush aside DMP Durham Sharks 90-7.
It took just 32 seconds for the Chiefs to open their account through co-captain Kate Zackary and they never looked back, with four from Jennine Detiveaux, a double from Hope Rogers and further scores from Merryn Doidge, Kanako Kobayashi, Lottie Holland, Emily Tuttosi, Linde van der Velden, Gabby Senft and Maisy Allen, with Megan Foster adding ten conversions from the tee.
After last weekend's swashbuckling performance against Worcester, Head Coach Susie Appleby made a number of changes to her side, with first starts for Senft and Welsh winger Caitlin Lewis. With Chloe Rollie a late withdrawal due to illness, her place in the matchday side was taken by Holland, with Doidge again starting in the 15 jersey.
It didn't take long for the Chiefs to hit their straps either, as Zackary burst free from the restart, racing over from nearly 50m to get her side off to the perfect start.
DMP to their credit though stuck at it in defence, forcing the Chiefs into several uncharacteristic knock-ons. Eventually though, the constant waves of Chiefs pressure were too much to handle.
As livewire wing Detiveaux weaved her way up to the try line, her charge was initially stopped. The Chiefs though, were not to be denied, with the pack going to work and allowing Rogers to dot down for her first of the afternoon.
Exeter were beginning to click into gear now and shortly after, Detiveaux would not be denied a second time. Cruelly, it came from a DMP error, as they were unable to hold onto the ball at the breakdown, allowing the American to canter in from halfway.
On the twenty-minute mark, the bonus point came Exeter's way, as Detiveaux powered over again. This time, she had her teammates to thank, as Nancy McGillivray, Kobayashi and Doidge linked up beautifully to set the winger free down the left-hand side.
The Chiefs were in a brutal mood now and had no intentions of letting up. After DaLeaka Menin had punched a hole in midfield, McGillivray and Ebony Jefferies combined to send Rogers in under the posts, with Foster continuing her fine afternoon from the tee.
Shortly after, Detiveaux would secure her hattrick, as the trend of USA internationals scoring the tries showed no sign of letting up.
It was the fast feet of McGillivray that were continuing to cause the damage for the home side, as she continued to attract defenders at will.
With the visitors scrambling, Foster fed the ball wide to Detiveaux, to brush off the attentions of Holly Thorpe and crash over.
There would be one more try for the Chiefs before the break, with Merryn Doidge continuing where she left off last weekend against the Warriors.
Exeter were playing at a relentless pace now, with Foster feeding the ball to Doidge on an inch-perfect line, allowing the fullback to show a clean pair of heels and scamper over under the posts for her fourth try in two games.
HALF TIME SCORE: EXETER CHIEFS 45 DMP DURHAM SHARKS 0
Whilst not quite as quick as the try to open proceedings in the first half, it would still take less than a minute for the Chiefs to hit the 50-point mark.
Straight from the restart, Foster's kick-off caused confusion in the DMP ranks, allowing the impressive Menin to turn the ball over for her side.
With the Chiefs hammering away at the try line, it was again McGillivray who was the provider, allowing Kobayashi to saunter in for Exeter.
Two minutes later and the Chiefs were in again. Playing with caution to the wind, Kobayashi found Zackary on a hard line just outside her own 22. The flanker has played in the backs when called upon at times this season and that raw pace was there for all to see here, as she burst up the field with a lung-busting carry.
DMP's Lauren Torley did superbly to pull the flanker down just a metre short of the line, but her offload was gleefully pounced upon by Holland to dot down and extend her side's advantage.
From there, it was all about the finishing prowess of Torley, who raced in for a deserved try.
DMP though were not going to lie down without a fight and scored a deserved try through Torley just a few minutes later. This was a really well-worked score as well, with fly-half Cara Cookland feeding inside to her fullback and catching the Chiefs defence unawares.
That score didn't deter the Chiefs though and shortly after, Detiveaux was in for her fourth of the afternoon.
As DMP were caught narrow in defence, McGillivray zipped the ball wide to Detiveaux, to hand off Amy Layzell and burst over.
Handling errors were beginning to creep into the game for both sides, as both coaching teams began to make changes. It was the Chiefs though, who would eventually regain that momentum, with Tuttosi crashing over from close range to take her side over 70 for the afternoon.
With Detiveaux again causing carnage every time she got her hands on the ball, Exeter's next score came from another abrasive carry, this time from van der Velden.
After Detiveaux had released Maisy Allen into the 22, Patricia Garcia went close, before van der Velden muscled over from close-range.
The Chiefs were still desperate to add more tries to their name and their penultimate try of the afternoon came from the impressive Senft on her first start.
Off the base of the scrum, the Canadian international powered away down the shortside, swatting away the attentions of the DMP players to crash over out wide.
With the game in its final thralls, replacement Olivia Jones tiptoed her way up the side-line, doing well to stay in play, before the pack went back to what they do best, allowing Allen to crash over and bring up 90 points for her side.
This was another clinical performance from the Chiefs and, with just two rounds of the regular season to go, they know that that play-off place is now firmly in their hands.
Exeter Chiefs: M Doidge; C Lewis (L Holland 30); K Kobayashi (O Jones 62), N McGillivray; J Detiveaux; M Foster, F Robinson (P Garcia 65); H Rogers (L Delgado 40), E Tuttosi (C Nielson 65), D Menin (A Middlebrooke 57); M Hunt (L van der Velden 48), P Leitch; E Jefferies (co-capt), K Zackary (co-capt, M Allen 48), G Senft
Tries: Zackary, Rogers (2), Detiveaux (4), Doidge, Kobayashi, Holland, Tuttosi, van der Velden, Senft, Allen; Conversions: Foster (10)
DMP Durham Sharks: L Torley; H Thorpe; L Taylor, M Thomas-Roberts; A Layzell (G Thomas Roberts 56); C Cookland (R Inman 56), E Jennings (C Broom 51); S Herrick (M Picut 62), A Bainbridge (N Haynes 65), M Gardner; T Taylor (T Gordon 65), J Weisheu; K Hobson (E Pigford 46), T Cowan (C Storer 66), J Hazell
Try: Torley; Conversion: Cookland
Referee: R. Sant'Anna
Attendance: 610