Chiefs Women to face Harlequins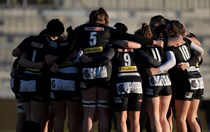 By Harry Scott-Munro
14/1/22
"It was a good win last weekend, but there's a lot more coming."
Those were the ominous words of Exeter Chiefs Women's Head Coach Susie Appleby as her side aim to put the rest of the Allianz Premier 15s on notice against Harlequins at Sandy Park on Sunday (2.30pm).
Last Saturday, the Chiefs opened their account for 2022 in fine style, eventually romping away to a 43-7 victory over Sale Sharks. Having only narrowly led at half-time, against an onslaught from the hosts, Appleby was left delighted with how her side upped the intensity in the second half.
"Sale came at us in the first half and put us under pressure," she said. "There were a few too many errors and we weren't playing to our strengths. We scrambled our way through that, but really turned it on in the second half. We played to our strengths, put the ball where it needed to be, and came out with a really good win."
Appleby, though, is under no illusions though of just how big a test the reigning champions will pose come Sunday.
"They have threats everywhere. There are no weaknesses. Quins have got a really big England contingent, a whole England front row and outstanding English back three," she highlighted. "It's opposite ends of the team, but they're strong all over. Jade Konkel as well at eight is playing outstandingly well."
Despite the formidable nature of the Harlequins side, Appleby knows that the focus has to remain firmly on her own side from within the camp.
"We have to focus on ourselves, as we do every week," she continued. "We need to improve upon last week and look to cut out those errors. We are starting to hit our straps a bit, so I'm expecting a really good physical battle. We then need to take our opportunities when they arrive because they may not arrive very often."
There are, however, key areas that Appleby has challenged her side to focus on ahead of kick-off, with a real emphasis in the week on not giving Harlequins the space or territory to set up their attack.
"Quins will be a threat all over the park and have a really good driving line-out, so we can't give those penalties away and we need to stop them at source. They are a real threat in the back field too, so we can't kick loosely to them."
Appleby bolstered her side in the week with the arrival of international pair Hope Rogers and Gabby Senft - with the former named amongst the replacements on Sunday. Appleby admits that being able to add that level of experience is "huge" for her side with competition for places now at an all-time high.
"Hope Rogers excelled in the Autumn for the States, despite being on a losing side. She's very dynamic and robust. With Liv De Merchant having to go home, it's pretty much like for like. We know, pushing into the latter end of the season that we have to be really strong upfront. Gabby Senft as well brings an awful lot of experience and can play across the whole back-row," added Appleby. "You just don't know what injuries you may pick up and if you pick them up at crucial times you struggle, which we don't want to do."
That competition for places can be seen within the selection for Sunday's clash. Whilst Appleby names an unchanged starting XV from a week ago against the Sharks, her bench sees four changes, including the return from injury of two standout performers this season, in the form of McKinley Hunt and top try scorer Ebony Jefferies.
Should Hunt take to the field on Sunday, it will mark her successful comeback into the fray from injury, having broken her leg against Sunday's visitors back in September. The other change on the bench sees Scotland international Chloe Rollie return having missed last weekend's clash.
With Rogers also poised to make an impact off the bench, that competition within the squad is there for all to see, with Appleby admitting that she has noticed an increase in the intensity at training, as selection decisions become tougher and tougher.
"There's massive competition for places now and it's really physical in training. Everyone is upping the ante, which they must. There's competition, but it's healthy competition. Everyone is in this to do the best for the badge and for the Chiefs. Ultimately, a lot of players are pushing towards the Rugby World Cup in October, so they want to be here, in the best environment and the best league."
Sunday also serves as an opportunity for the Chiefs to do the double on their London rivals for the first time, having secured a bonus-point victory at the Stoop earlier in the season. Appleby admits that the Londoners "had some players missing on that occasion," but pointed to her side's victory over Quins at Sandy Park last season as a sign of the competitiveness within the Allianz Premier 15s as a competition.
She added: "They came to us last season at full strength and we turned them over. What we and a lot of other teams are showing is that there are topsy turvy results. Any team on their day can beat another side and that's what makes it an exciting league to be in. We know we have to be at our best on any given weekend. It's an old cliché but I mean it. We have to keep improving week in, week out. That's how we maintain our position and really head towards that final weekend."
Supporters unable to make the match on Sunday will be able to watch live via BBC iPlayer and the Premier15s website.