Chiefs Women to face Sale Sharks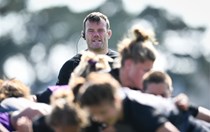 By Harry Scott-Munro
10/9/21
After a disappointing outing to open their Allianz Premier 15s campaign last weekend, Exeter Chiefs Women will be hoping that home comforts can help them get back on track this Sunday, when they take on Sale Sharks at Sandy Park (2pm.)
Last weekend at Shaftesbury Park, the Chiefs played their part in a lively encounter; Bristol Bears eventually pulling clear to consign the Chiefs to a 38-21 defeat in their opening match.
Looking back on the match, assistant coach Tom Hayes admitted that his side "let it get away from [themselves]" as they couldn't quite impose their system on Dave Ward's Bristol Bears side for the whole 80 minutes.
"We need to get to points in games where we realise that now is the time to really go after it, rather than just being a team that will be there and be a bit tricky to beat," admitted Hayes. "Staying in the fight is fine, but eventually you have to step up and dominate things. The big thing was that we let it get away from ourselves and let Bristol set the agenda a little bit too much. Hopefully, we get the response we need in terms of applying ourselves as well as we can."
Hayes himself experienced his fair share of moments during his playing days when a big response was needed, explaining that "the next match is never too far away."
For Hayes, he has spent the off-season getting reacquainted with familiar surroundings, having returned to the club he captained so successfully a decade ago. Whilst some things have moved on since his playing days, Hayes acknowledged that he could still sense that winning mentality around the club.
"Things have obviously evolved and progressed a little bit from my playing days, but everything is still done in the same vein, so it's good to be back. With a new group here, that was pulled together during Covid, it's an exciting time to see where we're headed."
Sunday will see Hayes' side come up against a Sale Sharks side that broke Chiefs hearts last season, snatching victory in the final act of the game up at Heywood Road. The Sharks will also be aiming to kickstart their season after suffering defeat to Worcester Warriors in Round 1 and Hayes is expecting something "a little bit unexpected" from the visitors who, like Exeter, were new to the league last season.
"We're expecting them to put the pressure on us. As a team, we need to keep the error count down. Sale throw a little bit of the unexpected at you, so we need to just focus on ourselves and try to impose our defence on them when they have the ball. It's just really about exploiting those opportunities when they come our way."
Following that defeat against Bristol, Hayes and Head Coach Susie Appleby have made several alterations to the match-day side with Olivia Jones set to make her first league start for the club from full-back, while Merryn Doidge switches to centre in place of Lottie Holland.
Explaining the selection, Hayes expressed his hope that the positional switch would allow Doidge to "show what she can do with the ball in her hands," with Jones adding experience and impact to an already talented backline.
"Liv has the experience at this level but she's also a dangerous player with ball in hand," explained Hayes. "If we can get some more impact and a cutting edge out of it that way, that will be a big positive for us."
The only other alteration to the starting XV sees American Rachel Johnson start at flanker, as Linde Van der Velden reverts to the bench. Johnson made a name for herself in the second half of last season with her abrasive style of play and Hayes has been impressed with her impact in the early stages of this season as well.
"Rachel brings an awful lot of power. She's a real ball of energy when she plays. I hope with her that we get a bit of a lift in terms of the energy and the impact that we'll have in attack and defence."
Amongst the replacements, Olivia De Merchant is in line for her first appearance of the season, Maisy Allen dropping out of the side.
The match will also see a Sandy Park crowd in attendance for a competitive women's league match for the first time since December 2020 and Hayes is hoping that the squad will be able to experience a proper Sandy Park reception after the success of nearly 3,000 fans attending the pre-season fixture against Wasps.
"I think a lot of the girls are thrilled just to have a crowd here. With Covid, they've never had the opportunity to play in front of a proper [Exeter Chiefs] crowd before. It gave us a big lift [against Wasps] so hopefully it can do the same on Sunday."
Tickets are available for the match right up until kick-off, with the game also livestreamed on the Exeter Chiefs YouTube channel.