Chiefs Women to face Sale Sharks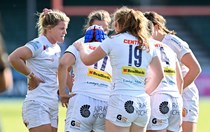 By Harry Scott-Munro
7/1/22
Exeter Chiefs Women's Head Coach Susie Appleby will be hoping her side ring in the New Year with a bang, as they make a second consecutive trip north, this time to take on Sale Sharks, in the first of what will be an incredibly competitive run of games in the Allianz Premier 15s (2pm).
Against DMP Durham Sharks prior to Christmas, Appleby saw her side record a swashbuckling 88-0 victory to move them firmly back into the play-off places. Having had time to reflect over the break, Appleby and her squad now insist that the focus has to be on much more than simply reaching the play-offs.
"We've switched up our mindset, we've been aiming for the top four, but now we're looking to win the thing," explained Appleby. "It's been a bit of a mindset shift, but you have to be like that heading into the second half of the season. We're going as hard as we can into every single game and this is the first encounter we've got before the games come thick and fast."
Sale though will provide a stern test at the start of 2022, with the weather expected to have a big impact on proceedings at Heywood Road.
"For us, it's back-to-back trips up north, where it's currently snowing! The weather can be a bit of a leveller, so we've got to play smart," mused Appleby.
Whilst the Chiefs have secured both league and cup victories over the Sharks so far this season, Appleby has still seen areas to improve, challenging her side to "play in the right areas of the field."
"We didn't play too smart when we played them in the Cup, but were able to come out on top. We want to play rugby, but we also want to play in the right areas of the field, otherwise you end up coming unstuck. We just love to play. Sometimes we get a bit overexcited when it isn't on to play, so we just need to be a bit more pragmatic."
The Sale side has been bolstered by a number of American internationals arriving since the last time Exeter faced them and Appleby is expecting the hosts to provide stiff opposition tomorrow afternoon.
"Sale are a very physical side. They're second from bottom, but they don't play like it. They don't lose by many and they're very capable. They've had an influx of American players since we played them, who are looking very good," noted Appleby. "They've got Katana Howard and a couple of props as well who will strengthen up their already very good squad. They are a well-coached group too."
For the Chiefs, Appleby has been impressed with "some really hard work that has been done" on the training field with the return of several players from injury bolstering the side ahead of kick-off. One of those is South African centre Zintle Mphupa, who makes her first start for the Chiefs at outside centre, having made her debut off the bench against Saracens in round 5.
"It's a really exciting prospect. Zintle is full of energy, power and pace. She loves to hit people so I'm hoping she has a good run out there in the centre," expressed Appleby.
Tomorrow will also see the return from injury of American flanker Rachel Johnson with Appleby asserting that she is "raring to go," whilst further touching on the competition for places within the squad.
"We haven't had Rachel back since round five. We have a couple of injuries but having a player like her come back in and Kate [Zackary] moving back into the back row means we can move things about. That back row is going to be incredibly competitive in the next few games."
In other team news, Spaniard Patricia Garcia retains her place at inside centre with Appleby feeling that her ability with the boot will give her side an extra edge against Sale.
"Patricia started her career in the centre, so she didn't struggle with it too much [against DMP]. She's a brilliant player and a really good link between 10 and 13 where we've got players who are just settling into their roles at the moment. Looking at the weather that's coming on Saturday, she adds a kicking dimension that we're probably going to need. She's a natural 9, but she's natural all over the field."
There is also a return to action for American international winger Jennine Detiveaux with Laura Sheehan and Merryn Doidge joining her in the back three.
Up front, co-captain Zackary returns to the more familiar position of No.8 having started the previous few games at centre, whilst Emily Tuttosi starts at hooker after a two-try cameo off the bench last time out. There is also a potential first league appearance of the season for prop Michaella Roberts off the bench.
"We've got some great combinations that are hopefully going to be quite exciting on Saturday," said a confident Appleby. "We've got Quins next week, but we don't look at that. We look at ourselves and focus on Sale and doing the job. After Saturday, we'll reassess and see where we are from there."
Supporters will be able to watch the action on Premier15s.com, with coverage starting from 1.45pm.