Community Chiefs hit Majorca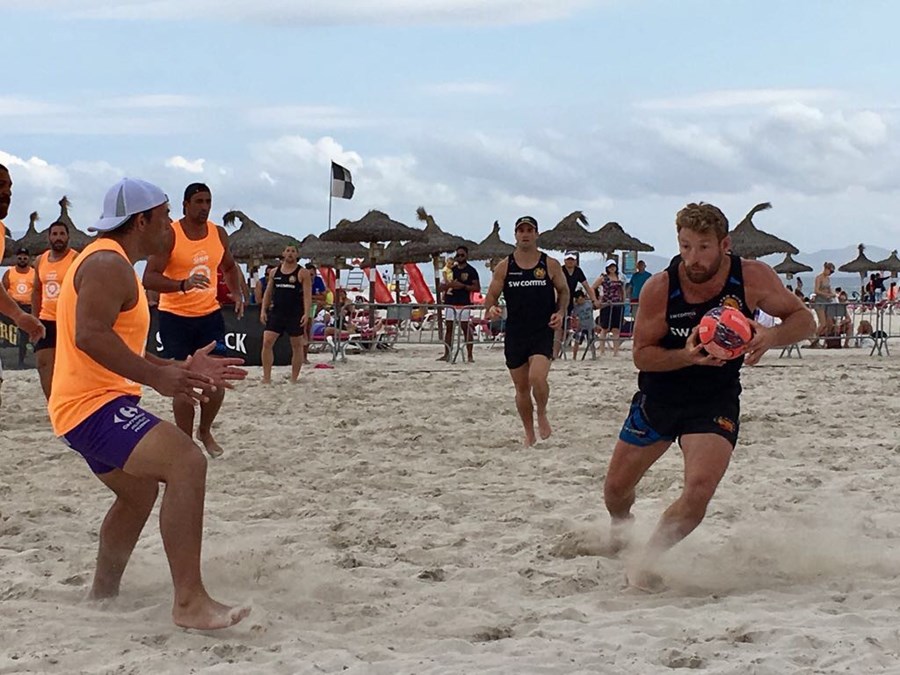 By Mark Stevens
17/7/17

Former Exeter star Gonzalo Camacho is helping spread the good name of the Chiefs far and wide after calling upon some of his former team-mates and members of the Devon club's Community department to help with a new coaching initiative entitled Global Beach Rugby.
Working alongside the former Argentine winger in Majorca were newly-appointed Academy coaches Matt Jess and Haydn Thomas, along with Andrew Dudley and Richard Bright from Community Chiefs.
Together, the group put on a series of coaching sessions, together with a beach rugby competition, on the hot, golden sands of Alcudia Beach.
Global Beach Rugby is an organisation and a concept where adults, families and youngsters can create a rugby environment that not only encourages participation and fun, but also helps to develop and educate all those taking part.
Using the skill-set of Camacho and the Chiefs coaching team, participants were not only taught the basic fundamentals of the modern-day game, but they were also given an insight into the game, before then putting their skills into practice.
As well as offering an insight into coaching, both Haydn and Matt explained the rise of the Chiefs from that of a team in the old Championship to that of becoming Premiership champions last season.
Andrew Dudley, Community Development Manager for the Chiefs, said: "Coach education sessions are a fantastic way to reach a huge audience. We had a group of about 50 people listening to our session and if they all go on to spread that knowledge further, who knows how far reaching that would be.
"For all of us, it's great to be able to share what we do in Exeter with a much wider audience. The Exeter Chiefs is a growing brand and this is just one example of how we are growing further."
Following the competition itself, the Chiefs Coaching team took to the sand for an exhibition game accompanied by Camacho who donned the Chiefs badge for one more time. The team they were playing, the Global Beach Rugby All-Stars, was littered with Argentinian internationals, as well as London Irish's new signing, prop Petrus Du Plessis, who was on holiday at the time.
After a yellow card for the Chiefs, the Global Beach Rugby All-Stars pressed their advantage with some big hits, going ahead in the early part of the game. However, the pace and the skill of the Chiefs saw them claw back the lead in the later parts of the game, something they didn't relinquish, making it the second big win in as many weeks!