Community Chiefs rewarded for their efforts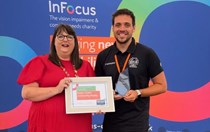 By Mark Stevens
1/8/22
The efforts of the Exeter Chiefs Community department have been hailed by a local charity, who have honoured their work at their end of year celebrations.
Infocus - who provide specialist services for young children and young people with vision impairment and complex needs - have been working with Community Chiefs for a number of months and this week named the club as their Infocus Partner of the Year.
Having initially visited the Exeter-based charity back in the winter, staff from the Chiefs went away and returned several weeks later with adapted rugby sessions for students.
It proved an instant hit as Infocus College Principal, Martyn Cox, explained: "For many of our students this was the highlight of their week. The shrieks of laughter, the energy expended, and the bonds built between students and coaches were priceless.
"Aron and Tom from the Chiefs were able to take our students significantly out of their comfort zone in such a positive way, and they saw no limits to anyone being able to take part. They even took the action into our water therapy pool to allow more students to take part.
"When you ask our young people what they most enjoyed this year the answer is nearly always "the Exeter Chiefs". Thank-you so much for bringing what you do to us and please come back!"