Cordero 'excited' about Chiefs move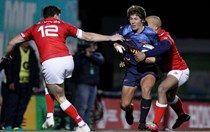 By Mark Stevens
15/7/20
Exeter Chiefs newcomer Facundo Cordero says older brother Santi gave him a glowing endorsement of the Devon club ahead of his impending move to Sandy Park.
The talented 21-year-old back confirmed on Friday he would be joining the Chiefs on an initial one-year deal from Argentinian club side, Los Ceibos.
Set to arrive shortly – once his quarantine period has been completed – Cordero will be hoping to have a similar impact to that of his elder sibling who, following his arrival in January 2018 from the Jaguares, quickly proved a fans' favourite.
"I spoke a lot to Santi about coming to England and coming to the Chiefs," said Cordero. "He told me everything at the club was very good, very professional and that I would enjoy every moment.
"I know it's a big move for me, but I am excited and I am looking forward to the challenge. Exeter are one of the best teams in England and one of the best teams in Europe, so I hope to learn a lot from my time there."
Although Cordero admits he doesn't know too much about his new surroundings, the positive words from his brother, coupled with what he has seen of the Chiefs on television, has given him plenty of encouragement ahead of his move.
"I've seen the Chiefs on television a bit, especially when Santi was playing there," he added. "I like the way they play. It's very attacking, they play good rugby and you can see they have great support as well.
"For me, it's a big opportunity to try something different, something new and I hope to my best for the team."
Certainly, Chiefs' Director of Rugby, Rob Baxter, is relishing having Cordero on board. Last week he teased the media and the club's fan-base about the newcomer's arrival, insisting it was a name that would have supporters 'licking their lips'.
"I thought the name Cordero would excite a few people as Santi was a huge fans' favourite. He was popular amongst the squad and played exceptionally well for us during his time here," said Baxter.
"We are kind of hoping that his brother can now follow in his footsteps. Looking at him, he's a little bit behind Santi in terms of his development, but hopefully what we'd like to see in the future is us having as much difficulty trying to keep hold of Facundo as we did with Santi because that is the quality of how he plays."
Baxter added: "Ali Hepher and I have had a good look at some of his games and we like what we see. We haven't spent a huge amount of time talking to him, but we are seeing enough quality there to say that it's a very good move for us. In a lot of ways, we see qualities that we saw with Santi, like the phone box type stepping to get in and out of tackles, which is clearly evident.
"There are bits of his game that he will need to develop to get to the very top of his game, but at the age he is, those development years are all ahead of him and we are hoping we can be part of that process."