Delgado has sights set on World Cup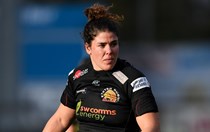 By John Harding
18/2/21
Prop Laura Delgado will be swopping the colours of Exeter Chiefs Women for those of the Spanish national team as they look to book a place in the Rugby World Cup in New Zealand later this year
But first, Spain has to win round-robin Rugby Europe Women's Championship for a fifth successive season as the tournament is a pathway to the European Qualifier for the Rugby World Cup 2021 to be held in New Zealand in September.
Spain will be favourites to beat the Russians at the Estadio Pedro Escartín in Guadalajara on Saturday (February 20) in the delayed match from 2020 and then go on to win against The Netherlands - who will include club-mate Linde van der Velden in their squad - on February 27.
Having not played a match together in so long, the Spanish team knows they will have to hit the ground running against a Russian outfit who has already seen off the Netherlands 27-21 last March and will be throwing everything at this one.
"It is certainly our goal to qualify for the World Cup in New Zealand, and it has been since we started working together after the previous World Cup in Ireland," said 30-year-old Delgado. "We will play each game as if it were a final, starting against Russia.
"It is so great being able to meet up with the squad again; being with 'Las Leonas' is always special, and it is even more so now given the situation that we are going through in the world at the moment.
"The current squad is a young group which has been building since the last World Cup; we have been working hard together when we have had the chance, and there is a very energetic and positive atmosphere around; we are growing together.'
Delgado, 30, admits that being away from family during the COVID pandemic has been tough, but now she is back in her homeland and keen to put a smile on supporters' faces on Saturday.
She added: "I really think that for me, being away from my family in recent months has been the most difficult thing. I have been used to playing away from home, but although I am used to that, normally I always try to visit my family every couple of months.
"However, recently I have been in England, and now we are in a squad bubble with Spain so I can't see them, but I keep in touch with my family as much as I can, and I want to play well for them and the supporters this weekend."
Delgado is originally from Jerez de la Frontera in the Cádiz region in the south of Spain, and she has added to her rugby experiences by playing for DMP Durham Sharks before joining Exeter Chiefs Women ahead of the 2020/21 Allianz Premier 15s campaign.
"Exeter Chiefs is the most professional club that I have experienced in my career so far," said Delgado, "We put in so many hours of training with so many international players from many parts of the world, and it is incredible, I feel that I am growing a lot as a player and as a person.
"Recent wins against Saracens and Harlequins recently are recognition of the great work that is being done at the club. Victories against these types of teams motivates us to keep working, and I know that we can keep growing as a player and a person."
Rugby Europe Women's Championship Fixtures
Saturday, February 20, 2021
Spain Women v Russia Women
Estadio Pedro Escartín, Guadalajara
Kick-off 3pm GMT
Saturday, February 27, 2021
Spain Women v Netherlands Women
Estadio Pedro Escartín, Guadalajara
Kick-off 3pm GMT