Delgado helps Spain to dominant win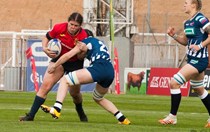 By Mark Stevens
21/2/21
Exeter Chiefs Women's Laura Delgado led Spain Women to a comprehensive 56-7 Rugby Europe Women's Championship victory over Russia Women.
Las Leonas, skippered by Chiefs prop Delgado, literally mauled the Russians into submission in a one-sided encounter in which the hosts ran in 36 unanswered points in the second half.
The home side took an early with a 15-metre drop-goal from centre Amalia Argudo Llobregat only for Russia to take the lead with a close-range try through captain Mariia Molokoedova, converted by scrum-half Alena Dammer.
But tries from lock Anna Puig Delgado, converted by Llobregat, wing Beatriz Dominguez Sanchez and outside centre Amaia Erbina Arana gave the hosts a 20-7 lead after a lively opening 40 minutes in a match played behind closed doors.
Delgado added two more tries in the second; flanker Maria Calvo Balaguer crossed twice, plus touchdowns from Cristina Blanco Herrera and Maika Brust completed the job with Llobregat adding three more conversions.
Spain Women, the title holders, will now face The Netherlands Women this Saturday, again at the Estadio Pedro Escartнn in Guadalajara, with the winners going through to a place in the European Qualifier for RWC2021 in New Zealand.
Lining up for the Netherlands will be Delgado's Chiefs club-mate, Linde van der Velden.