Devon life suits White just fine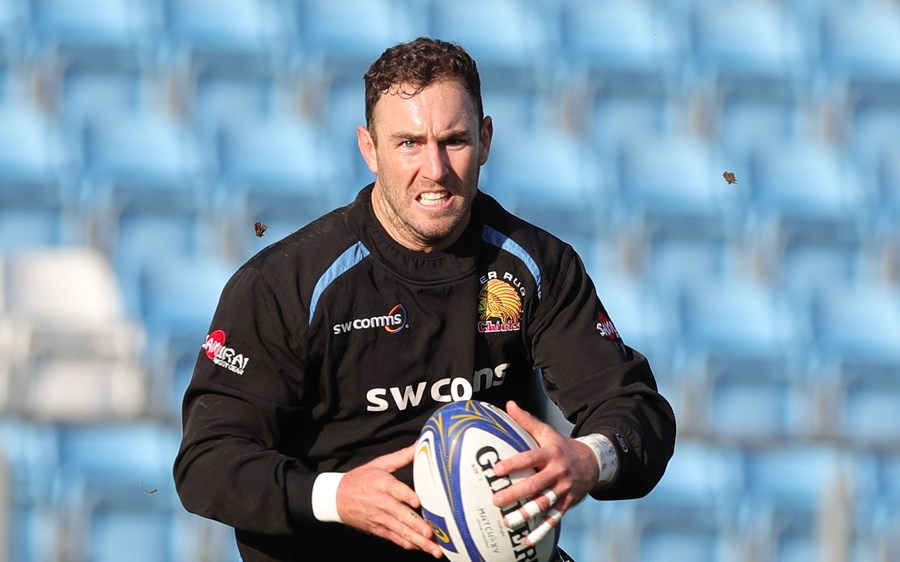 By Mark Stevens
13/1/18
Nic White knew prior to arriving in Devon that his new start this side of the English Channel would offer him an exciting challenge ahead.
Six months after departing the warmth of Southern France and his playing role with today's visitors Montpellier, the Aussie international admits he's loving life in the West Country and the challenges that are being laid out for him here at the Chiefs.
The most high-profile name of those added to Exeter's title-winning squad of last season, the 27-year-old has wasted little time in showcasing his undoubted talents to those within the English and European game.
White's bullet-like pass, sublime skill-set and his big-game experience have already been noted by many within the game - and once more underlines how shrewd Rob Baxter has become in recruiting top class talent to the region.
And the man himself admits he could not have enjoyed a better start to his Exeter career. Since arriving for day one of pre-season, the Scone-born half-back has relished his new surroundings and feels very much part of the Chiefs grand plan moving forward.
"I knew I was excited for the new challenge of coming here, but the move itself has far exceeded what I thought it would be," said White. "It's been everything I wanted and more. Obviously it helps massively that we're having a great season, but the little things off the pitch, the way we play, and the area itself, it's all been great."
Packing in daily alongside a clutch of fellow Aussies has helped the settling in process for sure, but White says the 'family feel' created by the club's more established names has been equally important to him.
"There is a real family culture here and it starts right at the top with Rob," he added. "It's a credit to all the guys, but especially the local ones. From day one they've accepted me and Mel and it's the same with the partners as well.
"I've said before, it felt like I had 45 new best mates almost immediately. For sure, that helps with how you go as a team, but happy wife equals happy life in my book."
Today, however, White will come up against a number of other familiar faces, albeit in the colours of Montpellier with whom he spent the past two seasons with.
Since the Champions Cup draw was made in the summer, this fixture - coupled with that of last October's, which the Chiefs won 27-24 at the Altrad Stadium - have been two games White has clearly been relishing.
"As soon as the draw came out, it was two games I definitely looked out for," he explained. "With it being my old club, up against a few mates, I thought what are odds? The weekend is going to be pretty exciting, but it's also a game that I think we're all really looking forward to.
"Because of the way the group is at the moment, especially for ourselves and Montpellier, it's a massive game for both of us. Obviously we got the win over there earlier in the season, but since then they've jumped above us and we know we have to win this week, and probably next week up at Glasgow, to stand any chance of progressing."
And with the Chiefs having home advantage this afternoon, White knows it's imperative he and his team-mates make that count, particularly as they look to bounce back from last month's back-to-back defeats against unbeaten Pool 3 leaders Leinster.
"There's still lots to play for," insisted White. "We're in an incredibly tough pool, probably the toughest in the competition, and whilst we didn't get the results we wanted against Leinster, we're still in there fighting and have a chance.
"If we're honest, we probably have to win against both Montpellier and Glasgow, but we've got that within us and now we have to go out there and show it. Playing here at Sandy Park and having that home factor, it's a big thing for us. The crowd is like a 16th man out there, and it really helps you at times out on the pitch."
Montpellier's last visit to Sandy Park, however, was back in Exeter's first year in Europe and on that day they emerged victorious in the Amlin Challenge Cup.
Times have changed significantly for both clubs in the years that have followed and White says there is no reason the Chiefs can't continue to prosper moving forward.
"We learnt a lot from the Leinster games, especially the first one," said White. "We know we didn't fire our best shots that day, but come the second game we talked a lot about playing positive footy, holding on the ball, attacking the game and backing our skills. For long periods of that game we were the better side, but we just let it slip towards the end.
"What it showed, though, was that we can play good rugby and we can be successful. We don't need to change anything up just because it's Europe, we just need to stick to what Exeter do best and play the way that has brought them success. It obviously works in the Premiership, so there is no reason it can't work in Europe as well."