Devoto's raring to go again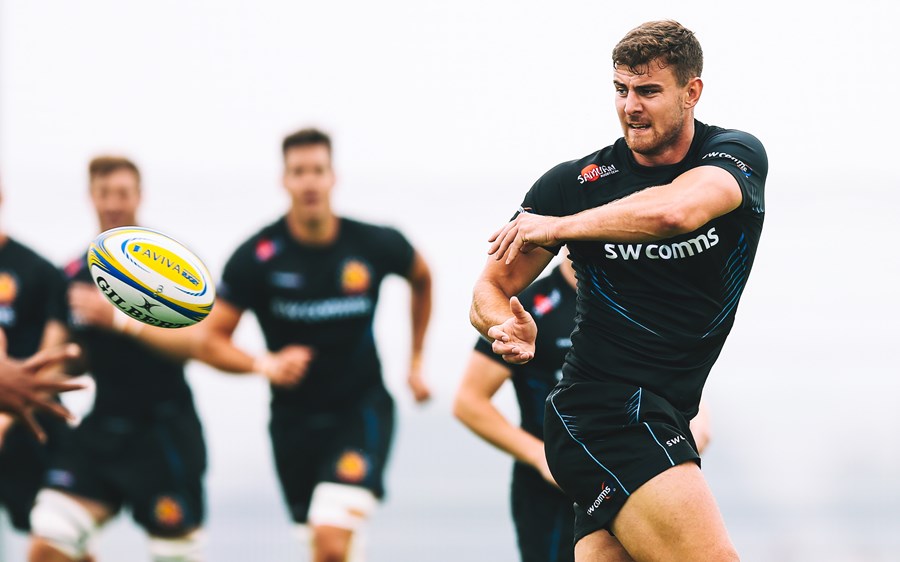 By Howard Lloyd
9/7/18
Exeter Chiefs centre Ollie Devoto admits he is still a long way from reaching full fitness after an injury-plagued season which he calls 'the most frustrating part of my career'.
The former Bath centre was restricted to just nine appearances in all competitions last season – only four of which came in the Premiership – due to nerve and disc problems in his shoulder and neck.
It was doubly frustrating given the excellent form the Yeovil-born 24-year-old displayed in his debut season at Sandy Park.
But Devoto insists he now fully over his injury problems and is 'raring to go' after starting pre-season training with the rest of the squad earlier this week.
"It has probably been the most frustrating part of my career so far," he said. "It was the first season I've had like it and every player goes through it unfortunately.
"The boys did exceptionally well and fully deserved to finish top of the league, but on a personal level the season never got off the ground. The team did exceptionally but for me it was a bit frustrating.
"It is going to take a while to reach full fitness – I am nowhere near that yet – it will be a long road but I am looking forward to it. Just playing at Sandy Park is special for me so if I can do that as much as possible, I would be happy."
As frustrating as his time out was, Devoto – who has one England cap to his name – did concede that the time off allowed him to mentally recharge and focus on things outside the game.
But now he is back and fit, his goal is to hit the form he showed in his debut season in Devon.
"Being out for so long gives you a chance to look at other things outside rugby and that can help," he said. "I've been doing up my house, little things like that which give you the chance to look outside of rugby. Once you're in the bubble rugby is the only thing on your mind, so it is very frustrating when you are not part of the squad.
"When you are not training with the squad, you don't feel part of it – you're on a different training schedule, things like that. It has been difficult at times, but I am back.
"My personal aim now is to get back playing at the level I was a couple of seasons ago. I am raring to go now."
As for team goals, righting the wrongs of last season's Premiership final is high on the agenda.
But making more progress in Europe seems to be the No.1 priority on he lips of everyone connected to the club.
Devoto said: "Europe this year is a big focus this year for us. We want to win the league every season but maybe we haven't quite done ourselves justice in Europe and that is something to look at.
"As for the Premiership, We were extremely disappointed after that final. The changing room was a pretty dark place after that loss. A final is a final and anything can happen – I thought Sarries played exceptionally well – but there is much more for us to achieve yet."