Dollman deserves new deal - Baxter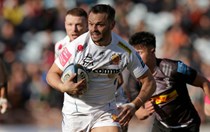 By Mark Stevens
6/7/20
Rob Baxter says Exeter Chiefs star Phil Dollman 'fully deserves' having his contract extended to the end of the 2019/20 season.
The 35-year-old Welshman has been at the Chiefs since Baxter made him his first-ever signing ahead of the 2009/10 season from the Newport-Gwent Dragons.
Since then, he has played an intrinsic part in the rise of the Chiefs, helping them initially to promotion out of the Championship, before going on to play a lead role in establishing the Devon club as one of the leading rugby clubs, both in England and Europe.
His crowning moment came during the 2017 Premiership Final, when he scored one of Exeter's tries in their extra-time victory over Wasps at TwIckenham.
With 240 first team games under his belt, he is one of just a few survivors that remain from the old Championship days. This season is to be his last in Chiefs' colours, but with the COVID-19 pandemic bringing a halt to proceedings in March, there was the chance that Dollman may have departed without getting the send-off he so richly deserves.
However, Baxter said his decision to reward Dollman with a deal until the end of the 19/20 campaign was not a sympathy approach, but more so that the player had shown he can still play a significant part in Exeter's quest for glory.
"Phil fully deserves the contract extension," said Baxter. "Not only has he played very well, not just this season, but for all his years with us, but he's also training very well right now. Phil knows we wouldn't just offer him a contract to say thank-you for your efforts, that's not how we do things here at the club.
"It's more the fact, this is a contract that says to him that he is an important part of our squad and that we expect lots from you. When we discussed it, I said to Phil 'here it is, now let's go and see what you can do between now and the end of the season'."
The Chiefs are set to resume their Gallagher Premiership campaign next month against Leicester Tigers at Sandy Park. Currently, they head the table by five points from Sale Sharks, whilst they also have a Heineken Champions Cup quarter-final clash with Northampton Saints penned in for September.
"I think it's fantastic that we can keep Phil until the season wraps up," added Baxter. "Personally, I think it's great that a guy who has spent so long with us, whose been such a good servant as he has, and who has bought into everything literally from day one of me taking up the head coach role, is carrying on his journey with us for a bit longer.
"I still remember picking up a box of DVDs that we're dumped on my desk, stuff that was left after Pete [Drewett] moved on, and trawling through them all. At the time I was focusing mainly on the forwards, but I knew we need to bring some quality into the backs and I started doing some research on Phil. I started watching the DVDs, I think it was a Dragons game against Bath, and I thought he's got something about him.
"We got the deal done pretty quickly after chatting things through and he's been with us literally from day one in the Championship. Over the years Phil has had a lot of success with us and he's won more games than he's lost. He's played a huge part, both on and off the field, and he's grown as a player just like we have as a side.
"When you have a guy like that around the place, you want to keep him involved. That's why we had no hesitation in wanting to extend his deal. It's strange times for us all, especially rugby clubs like ours, but in times like this you need guys like Dollar around the place. For us, we felt this was too good an opportunity to left slip, so I'm delighted he's here until the end of the season."