Double delight for Mackinder on the road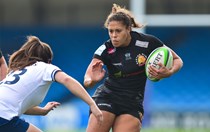 By Harry Scott-Munro
17/11/20
Exeter Chiefs Women's winger Garnet Mackinder expressed her delight after bagging a try double in her side's 31-6 victory over DMP Sharks at the Northern Echo Arena.
After a sluggish start, Susie Appleby's side scored four first half tries, including a brace from Mackinder, to open up a 24-6 advantage at half-time. Despite only being able to add one second half try through Patricia Garcia, Mackinder was still all smiles as her team secured a second consecutive win.
''First half I think was good, we got a bonus point win for the first time, which I think is really positive," she said. "We played really well in the first half especially, but as a team we know we've got lots to work on with our shape, because we've got high standards we set for each other.''
Despite a challenging start to the season, DMP Sharks offered Chiefs a difficult challenge throughout. Head Coach Appleby stated pre-game that her side would be treating the game as any other, paying tribute to the strengths of the Sharks, despite their challenging start to the season.
Although disappointed with elements of her own team's performance, Mackinder echoed those sentiments: ''They [DMP] were great. They came out all guns blazing, we knew that, we paid full respect to them.''
Mackinder was also pleased to score her first two tries in the colours of her hometown club, the first off the back of a flowing team move that saw the ball eventually worked wide – and the second after a superb individual break from full-back Merryn Doidge.
''It's great,'' explained Mackinder, ''I've been going through a bit of a try drought, so it was great to finally get over the whitewash and remember how to score a try!''
Mackinder also praised the partnership she was building with fellow back three players Lottie Holland and Doidge, touching on the additional work the trio have been putting in with coach Dom Thorne to finetune their structures during matches.
''I'm really enjoying working with Merryn and Lottie, we're doing some work with Dom [Thorne] as well, doing some work in between training as well, and our pendulum is starting to come together. Merryn's a great player and that break [for the second try] was just awesome.''
Although the Chiefs are without a game this weekend, they return to action in the Premier 15s on Sunday week when high-flying Wasps are the visitors to Sandy Park.