'England must respect us' - Hogg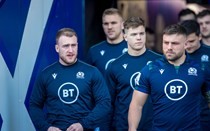 By Stuart Pleaven
07/02/20
Scotland captain Stuart Hogg insists that England "respect" his side's attacking capabilities ahead of this weekend's Calcutta Cup tie at BT Murrayfield.
Newly-appointed captain Stuart Hogg will lead his side out at BT Murrayfield for the first time tomorrow as Scotland take on England in the 2020 Calcutta Cup, a match that last year ended all square after the two nations played out a thrilling 38-38 draw at Twickenham.
The mercurial fullback was forced to watch the match from home, however, with the tournament-ending injury he picked up against Ireland in the competition's second round meaning he could play no part in his side retaining the trophy.
But reflecting on the game, he knows his side can ill afford another slow start.
"The game showed we can attack and defend and mix up a game plan as much as we want but we cannot be in the same situation again and to give them a 31-0 head start," Hogg said.
"We have got to make sure we are ready to go. They are renowned for starting well. You saw that during the World Cup so the first 20 minutes are huge and for us that is all we are concentrating on.
"It is down to believing in your own ability and the man next to you and the man next to him. If we get that we will be in a very good place. We have worked incredibly hard over the last few weeks to get in the best place possible and I truly believe we can go out there and win."
Although he was careful to add that " it's just a normal game", the Scotland captain went on to express his excitement at having the chance to bounce back from defeat last time out and turn over a "world class" England side in front of a home crowd.
"We're excited to challenge ourselves against one of the best teams in the world," Hogg added. "I believe we're ready. I believe we're in the best place we can be on the back of a defeat.
"A lot of people have said this week that there will be a good reaction from England and they will be ready to rock and roll, but we were beaten last weekend and we will have a reaction as well.
"It's Scotland vs England, a massive game for us, and one we're excited for."
Though Hogg was at pains to stress the quality of talent available to the English, the men in white will turn out with the inexperienced George Furbank at full-back.
The 23-year-old Northampton Saint is set to win just his second cap in unfavourable conditions at BT Murrayfield tomorrow, but his Scottish counterpart had high praise for his abilities.
"He's a phenomenal talent and he's been playing incredibly well for Northampton Saints over the past couple of years," Hogg said of Furbank.
"We've got to make sure that we're kicking smartly and then we're in a position to shut him down. He's someone we can't kick loosely to. If we let him have time and space then he will punish us. Although it's just his second cap, he looked fairly comfortable last week. He'll have a wee bit more confidence heading into this weekend.
"With their back three and backline we can't afford to give them time and space, but I believe in our defensive ability to shut them down. We have analysed what they will do as a backline so here's hoping we can just get stuck into them."
This sort of respect is mutual, Hogg assured the media, explaining that he had been in contact with some of his Exeter Chiefs team-mates in the build up to the game.
"They respect us, 100 per cent, because they're aware of the challenges we pose for them as a team," the 27-year-old said. "I've had a fair bit of banter with some of [the Exeter Chiefs boys] this week, even though they're not involved, and they do respect us."