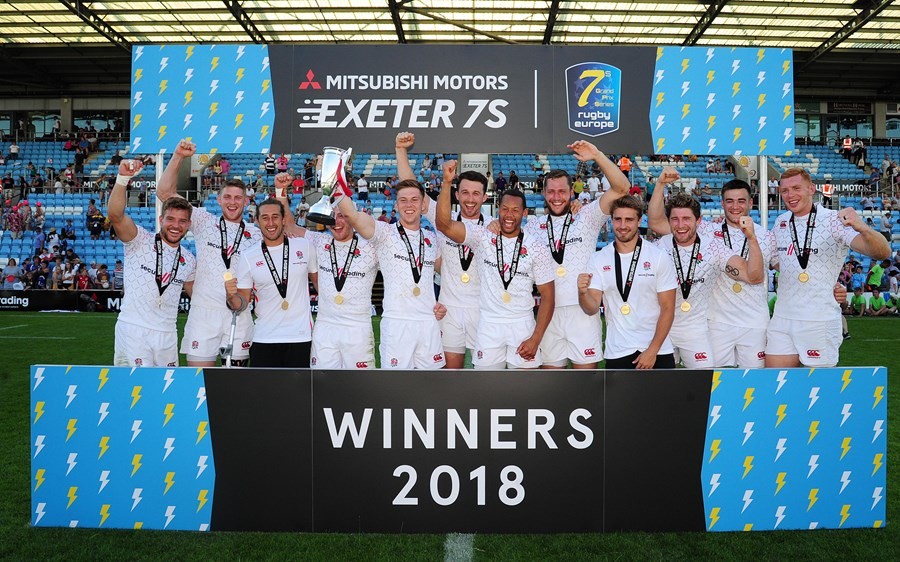 By Charlotte Harwood
8/7/18
England Sevens won the Rugby Europe Sevens Grand Prix Series Cup final at the Mitsubishi Motors Exeter 7s after a 15-5 victory over Russia.
England now return to their training base to prepare for the Rugby World Cup Sevens which takes place in San Francisco on 20-22 July.
England started strongly in the Cup final with Mitchell sneaking in off the back of a ruck from a metre out for the lead.
Mitchell's grubber then set up Norton who pounced on the ball just before it ran out of play as England led 10-0 at the break.
Russia were next to score when Ilia Babaev was able to break through two defenders and cross over despite the attentions of Phil Burgess.
England restored their two-score lead as Burgess then sent Rodwell sprinting through off the back of an overthrown lineout, and they remained firm until the end to secure the Cup.
"Winning a home tournament in front of such a great crowd is always very special. I'm really pleased with the way that the team performed in this tournament which gives us good momentum going into the World Cup," said head of England Sevens Simon Amor.
"I'm massively impressed with some of the younger players who really stood up this weekend – this is exciting for us going forward in terms of continuing to build depth within our squad.
"Will Edwards' decision making was great and he did it in his own style which is very important as we see him as one of the future leaders of the team."
"A number of the boys have really put their hand up for World Cup selection this weekend and a lot of them are on great form right now, so picking a final 12 is going to be a tough challenge."
In the semi-final it was Ireland who took the lead after winning the ball from kick-off with Shane Daly breaking through a tackle for the first points of the game.
Alex Davis' offload sent Burgess in out wide for England's response, but England took the lead when James Rodwell broke the line off Will Edwards' pass, giving the ball to Norton who raced away from 30 metres out.
Ireland were level within 30 seconds of the restart through John O'Donnell as it sat 12-12, but following an Irish handling error, the ball was worked out to Norton for his second score.
England's fourth try came from a lineout as Richard de Carpentier gathered the ball and McConnochie set the driving maul to power over from six metres out, and Burgess' second with a minute remaining secured the victory.
In their quarter-final tie against Germany England defended exclusively for the opening two-and-a-half minutes before Burgess won a penalty turnover to secure possession.
It was off another penalty that England got the opening score, when a set routine was worked out to de Carpentier on the left wing with his step beating the defender to race in.
Will Muir's cut back line saw him charge over from close range, before Burgess' dart down the blindside saw him cross for a 19-0 half-time lead.
England added a fourth when some neat handling eventually saw Norton offload to Rodwell but Germany responded as they went over through Marvin Dieckmann.
Simon Amor's side went over again when Edwards broke the line to set up Norton. With time dead Tim Biniek grabbed a consolation try for Germany.
England Sevens squad for the Mitsubishi Motors Exeter 7s:
Dan Bibby
Phil Burgess
Alex Davis
Richard de Carpentier
Will Edwards ©
Fergus Guiry
Ruaridh McConnochie
Tom Mitchell
Will Muir
Dan Norton
James Rodwell
Ethan Waddleton
England's results:
England 43-5 Georgia
Tries: Will Edwards (2), Dan Bibby, Phil Burgess, Fergus Guiry (2), Ethan Waddleton

England 19-12 Poland
Tries: Dan Norton, Alex Davis, Ruaridh McConnochie

England 14-27 Russia
Tries: Ruaridh McConnochie, Will Edwards

England 31-10 Germany
Richard de Carpentier, Will Muir, Phil Burgess, James Rodwell, Dan Norton

England 29-19 Ireland
Tries: Phil Burgess (2), Dan Norton (2), Ruaridh McConnochie

England 15-5 Russia
Tries: Tom Mitchell, Dan Norton, James Rodwell