Heineken Champions Cup Opponents Announced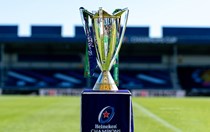 By Jack Lewis
21/07/21
Our opponents for the opening round of matches of the 2021/22 Heineken Champions Cup have been announced after today's draw which took place in Lausanne in Switzerland.
We are facing familiar foe in Glasgow Warriors who have been regular European adversaries in recent seasons and Montpellier Hérault who we last faced in the 2018 group stage.
For the purposes of the draw, the 24 clubs which qualified from the TOP 14, Premiership, and the PRO14 were classified into four tiers based either on their respective league rankings or on other qualification criteria.
Each tier contained six clubs with Tier 1 made up of the number one and number two ranked clubs from each league, and Tier 2, the number three and number four ranked clubs from each league, and so on.

Starting with Tier 1, the clubs were either drawn or allocated into either Pool A or Pool B so that each pool contained 12 clubs with no clubs in the same tier from the same league in the same pool.

The key principles regarding the pool stage fixtures are that clubs will only play against opponents in the same pool, and clubs from the same league cannot play against one another.
The 2021/22 tournament will be played over nine weekends with four rounds of matches in the pool stage. The eight highest-ranked clubs from each pool will qualify for the knockout stage which will consist of a Round of 16 on a home and away basis, quarter-finals and semi-finals, with the final in Marseille on 28 May 2022.
The opening round of European Fixtures will be played on the weekend of the 10th/11th/12th December