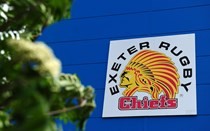 By Mark Stevens
23/11/21
Exeter Rugby Club will be staging their Annual General Meeting at Sandy Park on Wednesday, November 24 (7pm).
Club Chairman and Chief Executive, Tony Rowe OBE, will chair the meeting and will be joined on the night by fellow members of the club's board.
Among the items on the agenda will be the club's current branding. Members will be invited to discuss this matter in full, but there will be no vote take on the night in regards this matter.
Only bonafide members of Exeter Rugby Club are permitted to attend the meeting.