Fab five named in USA Eagles squad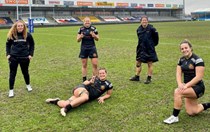 By Mark Stevens
16/2/21
Five Exeter Chiefs Women's have been named in the USA Women's XV National Team's World Cup Performance Squad.
Gabby Cantorna, Janine Duncan, Rachel Johnson, Joanna Kitlinski and Kate Zackary have all been included in Rob Cain's 51-strong squad.
Between them, the quintet have been responsible in helping the Chiefs Women - who were only formed at the start of the 2020/21 season - to fifth spot in the current Allianz Premier 15s standings.
Centre Cantorna is the club's leading points-scorer this season, whilst back-for forward Zackary is the top try-scorer with six touchdowns, the latest of which came in Saturday's away win at Worcester Warriors.
The US programme will hold two seven-week training blocks at the RugbyTown National Training Centre before departing for the World Cup in New Zealand at the beginning of August.
The first training block runs from March 13 to May 2 and features the bulk of players named to the Performance Squad with consideration for those who have club commitments in England and those on Sevens Residency.
At the end of May, the 51-strong squad will filter down to 40 players who will assemble for a final World Cup Residency from May 31 to July 21. The official World Cup team will be selected once Residency concludes.
Upon arrival in New Zealand, all players and staff will complete mandatory two-week testing and quarantine period. Following this, it is proposed that a group of pre-World Cup fixtures will be played to optimise preparation before pool play begins.
Of the 51 players named, 11 have competed in at least one XVs World Cup while 15 seek their first cap. The Performance Squad also includes eight USA Sevens players who can compete in both the Olympics and Rugby World Cup.
Head Coach Cain said: "What a great opportunity to continue the exciting platform from November at our RugbyTown National Training Centre. We learned so much in terms of where we are, where we need to be, and the time it will take to get there.
"The ability to take those fresh learnings and pick back up so soon is a very exciting prospect for the group. This schedule is geared towards enabling the players to perform, meeting the real threat of no domestic rugby or training environments for the past year head-on."
The USA Women will face Europe 1 in the opening match of RWC2021 at the Northland Events Centre in Whangarei on September 18. They will also face rivals Canada and Asia I in their other Pool B games
Cain added: "New Zealand, England and France having full domestic seasons alongside international fixtures continues to present threats to our own goals. We have spent the past two years getting to the point where rugby is first, but underpinned by physical qualities that are hard to match. We have gone about our business very quietly, adapting to the needs of the group at every opportunity."