Former Chief takes charge at Albion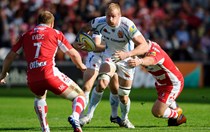 By Mark Stevens
19/5/20
New Plymouth Albion head coach Damian Welch has admitted his time at Exeter Chiefs has helped pave the way for him in terms of his coaching career.
The 37-year-old was on Sunday confirmed Albion's new coach on a two-year deal, taking over at the Brickfields from former Exeter team-mate James Scaysbrook, who is moving into a similar role with Championship side Coventry.
Welch spent five years with the Chiefs, joining them in 2012 from the Scarlets, and amassed a total of 102 appearances and 11 tries for the club.
Having retired last season after a 13-year playing career, which included spells with the Scarlets, Chiefs and Cardiff Blues, Welch is now embarking on his first major steps into senior coaching.
He said: "I've been really fortunate in terms of the people I played for, a variety of international coaches. This included Rob McBryde at Scarlets, Danny Wilson at Blues, Dale Mcintosh – he was Cardiff Blues coach and he also coached Namibia at the World Cup and then, of course, the guys like Simon Easterby at Scarlets now with Ireland.
"I have been really lucky, but going to the Chiefs was big for me in terms of coaching and I don't think it gets better than that. It was so detailed, so well thought out and their planning is so meticulous and one of the things that have really rubbed off on me because it was a bit of an eye-opener.
"The way I've been coached I hope will stand me in good stead. As I said, I've been so lucky to work with coaches with different ideas as well, so I get a good chance to cherry-pick what I think is going to work the best."
Ironically, Welch's first taste of coaching came during his time with the Chiefs, where he was one of a number of first team players who would help coach at the University of Exeter. Alongside Haydn Thomas, Welch oversaw the University's first team squad, helping them to success in the BUCS Final at Twickenham.
Welch added: "The University is where I got my grounding as such, then I did bit and pieces along the way at the Chiefs. From there, I moved on to a couple of the semi-pro clubs in Wales and did bits and pieces there trying to combine it with a bit of playing. I was basically playing at Cross Keys helping out there as well. So, bits and pieces as I've gone along but this is my first full time coaching role so for me it is massively exciting, and it is a real chance to sink my teeth in'.
Part of Exeter's Premiership-winning squad of 2017, plus an LV= Cup winner as well in 2014, Welch says he's looking forward to returning to Devon and continuing his rugby career in a different light with the National League One club.
"I was still playing last season, but it became clear that my involvement in rugby with my playing career had to cease at some point fairly soon into the future. So, I started looking around for coaching opportunities to see how I could keep being involved beyond playing," explained Welch.
"I went to see a couple of people at Exeter Chiefs to pick their brains to see what they thought would be a good idea in terms of pointing me in the right direction. Following on from that, the academy manager, Rob Gibson, got in touch with my agent and let him know there was a head coach role available in Plymouth.
"Obviously, I'm very familiar with Plymouth (Albion) as an entity bearing in mind, I had my time with the Chiefs, I knew a few boys who had gone down to coach, and a few boys that had gone there to play on the permanent side of things. It sounded like quite an interesting opportunity, so I spoke to Max Venables about their plans and what they wanted to do with the club.
"I was quite surprised at the scope of the vision they had for what they wanted to do at the club. It was different than just wanting to be a rugby club; they have an all-round, more holistic approach in mind from what I can see, it was very interesting, not necessarily what I expected to hear. From there I was very very keen to throw my hat in the ring, and it worked out.
"I've had a look at how Albion have been playing, the good news is that there is no need to reinvent the wheel. The style of play I saw towards the end of the season fits fairly close to my kind of vision, fast open play, a lot of ball in hand, that kind of thing, but obviously, with me being a forward we'll try and mix that with a nice hardcore edge.
"There are already some incredibly good foundations in that department. The scrum is looking particularly powerful, just little details like our maul defence, but in terms of exciting rugby that's the way we are looking to play."