Francis aiming to go out on a high note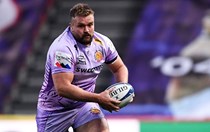 By Mark Stevens
2/4/21
Tomas Francis maybe heading for pastures new come the end of the season, but before he leaves the Exeter Chiefs prop says he's determined to bow out on a high.
Fresh from adding another Guinness Six Nations title to his playing honours, the Welsh international now has his sights on more gold between now and the end of the season.
An integral part of the Chiefs side that were crowned English and European champions last season, the 28-year-old admits there is a burning desire amongst the Exeter playing squad – and himself – to replicate the achievement once again.
"It would be a dream to bow out with another double, but you can't think that far ahead," said Francis, who will swap life at the Chiefs next season for a new start with the Ospreys. "All we can think about right now is Lyon. It's knock-out rugby from here on in. We've got at least seven rounds of the Premiership left and, hopefully, a few more games in Europe.
"For all of us, this is the business end of the season and now is the time for things to crank up a gear!"
Having bagged two Premiership titles, as well as a Champions Cup crown during his stay in Devon, Francis admits securing further honours with his Exeter brotherhood would be a fitting finale for him.
"I've played with a lot of the boys for the last seven years," he explained. "Together, we've been through some much, both on and off the field. Together, we've all developed, we've all got better and it's been a great place to play my rugby. I've made friends here that will last a lifetime.
"I've got used to enjoying so many good times with so many great people. When I look back, my first year we finished fifth and ever since then we've been in every Premiership final since. As I said, we've got better together and last year was obviously the pinnacle in winning the double.
"In a weird way, it kind of made my decision to leave a little bit easier. Obviously, I want to further my international career – and that played a big part in me moving on – but equally had we now achieved the double, it would have left a bitter taste as I know what this squad is capable of achieving.
"This group of players have worked incredibly hard and they deserve the success they've had. You can see the foundations are in place for more success, not just this season, but for years to come. That's why it was a very tough decision to leave, but I want to finish on a real high here.
"I've put the Six Nations to bed now, I didn't even go up for the trophy presentation, because I know I've got 13, 14 weeks potentially left with this bunch of boys. They've had been a huge part of my life for the past seven years and now I want to finish with two trophies. All I can do between now and then is focus fully on my rugby. Next year is another journey, but for now I'm focused on this journey."
As the former Doncaster and London Scottish forward rightly points out, there will be no 'second chance' for the Chiefs if they fail to turn up against an in-form Lyon outfit this weekend.
"It's going to be a huge test," warned Francis, who knows from recent Test experience the threat posed by players from across the English Channel. "If we don't turn up on Saturday, there is no second chance, and that will be one of the competition done and dusted for us. What we have to do is make sure we harness all the pressure of this game into producing a big performance, like we did so often during the latter stages of last season.
"We know they are a strong side with some very good players but, equally, we know what we are capable of achieving too. As always, our main focus has to be on ourselves and making sure we perform. If we can, then I would back ourselves against anyone here at Sandy Park."
As has been the case for much of the past year, Sandy Park will again be without a capacity crowd for this Round of 16 encounter.
Francis admits that playing out games to empty houses is 'shit', but that he and his team-mates have had to get used to it becoming the norm.
"One of the reasons you play is to feature in those big games and feel the buzz of the crowd," said Francis. "At the end of the day, we're in the entertainment business, so not running out at a packed Sandy Park or Principality Stadium, it's not the same. Hopefully, though, come next season we will be able to have fans' back in again."
That is certainly an incentive for Francis, as is the chance of finishing strongly with the Chiefs. With 58 caps to his name, the talented tight-head is been talked about in some quarters as a potential member of Warren Gatland's squad for this summer's British & Irish Lions tour to South Africa.
The York-born forward happily side-steps the various thought nicely, but does say the challenge of performing, both for club and country, means he is forever having to raise his game.
"You can't get comfortable, because if you do, you get dropped," he adds. "Getting into that 38-man Welsh squad is hard enough, but if you do get in, the challenge intensifies even more once you do get into the camp.
"Thankfully, I've had that kind of challenge here for years with the likes of Harry, Greg and Muz. I tend to thrive in that environment because it means I have to up my game, I can't afford to stand still. With Wales, the depth across the whole squad is improving all the time and it's been reflected in our performances in the Six Nations.
"If you don't train well, you don't play well, you don't feature, it's pretty simple in that way. However, that is how it should be. The challenge I get from guys like Samson, Dylan, Leon, even WillGriff coming back, it's there every time you go out."
And with such a focused mind-set there is little reason to doubt that Francis can continue to follow his dreams, all of which he hopes will end in glory.