Francis to leave the Chiefs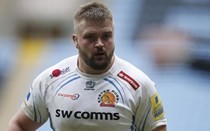 By Mark Stevens
12/1/21
Tomas Francis admits it's with a heavy heart that he will be calling time on his Exeter Chiefs career at the end of the current season.
The Welsh international, who joined the Devon club back in 2014 from Championship side Doncaster Knights, has today agreed to join the Ospreys on a three-year deal.
Francis has opted to move to the Pro 14 club in a bid to continue his international career. Current rules adopted by the Welsh Rugby Union mean the 28-year-old would either have to forego playing Test rugby in the future – as he has failed to reach the 60-cap limit – or decide to stay with the reigning English and European champions.
Currently, Francis has 52 caps to his name and will be unable to reach the limit by the end of his present contract with the Chiefs.
"I knew there would be a time when I would have to make a decision on my future," said Francis. "It's not been easy – in fact it's been the toughest decision I've had to make in my career – but I've had to do it to make sure I can carry on playing international rugby.
"Since the moment I arrived at the Chiefs, it's been an unbelievable journey for me. I came here six, seven years ago as a Championship player and now I'm leaving as a 50+ cap international and with two Premiership and one European title under my belt.
"What I have achieved with the Chiefs – and what I still hope to achieve this season – is something special. As a player in this group, I've been incredibly privileged to be part of a special journey. The culture we have here, both on and off the field, is second to none and although I'm leaving, I know I will have friends for life from the experiences I've had with them."
Since making his debut back in September 2014, away to London Welsh, the York-born forward has amassed 115 appearances to date for the Chiefs.
He has also played in two Rugby World Cups, the last of which saw his participation ended in the semi-finals against South Africa when he sustained a serious shoulder injury. That blow would sideline him for months, robbing him of the chance to gain vital caps which may well have ensured he could have stayed with the Chiefs.
"The injury was incredibly disappointing, but it's part of the game," he added. "I still have a huge ambition to play international rugby regularly and that was a key part in my decision-making. Other things as well come into the mix, but I know between now and the end of the season, I will be giving everything I can to ensure my time with the Chiefs ends on a high.
"I want to give back to the club because they have been so good to me over the years. Both Rob [Baxter] and Rob [Hunter] gave me my opportunity and they have helped develop me into the player I am now.
"For me, I want to leave a legacy in that I helped the club to even more success. I've been lucky enough to win two Premierships and the Champions Cup during my time, but I want to win more things before I do leave."