Fryday signs for the Chiefs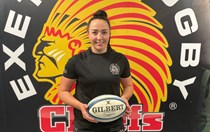 By Mark Stevens
25/11/21
Fresh from adding a new face to her coaching team this week, Exeter Chiefs Women's head coach Susie Appleby has now added a new international player to her ranks.
After completing test duty with Ireland this Autumn, powerful forward Nichola Fryday has arrived at Sandy Park having previously played for Blackrock College and Connacht Rugby.
Equally adept in the second or back-row, Fryday has been capped 22 times for her country and is relishing the opportunity of developing her game with the Chiefs in the highly-competitive Allianz Premier 15s.
"I'm really excited about the move," said the 26-year-old, who hails from Kilcormac, Co Offaly. "It's all been a bit of whirlwind these last few weeks, what with playing for Ireland, but now I'm here I can't wait to get stuck in.
"Laura [Sheehan] has told me a lot about the club, everything positive, and now I'm here I can already see that there is a real close-knit vibe amongst the squad. For me, it's a great opportunity to come over here and play a high standard of rugby and get some quality rugby time under my belt."
Fryday's arrival is a timely one for Appleby, who is still minus Canadian lock McKinley Hunt, who broke her leg in the away victory over defending champions Harlequins back in September.
"Nichola looks like a quality second row, exactly what we need, especially with McKinley still sidelined," said Appleby. "I spoke to her a while ago and she said she wanted to get through the Autumn period with Ireland and then come over here and have a different outlook on the game.
"Laura Sheehan obviously knows here very well and gave her a good wrap, but from what I've seen myself she seems to do the simple things well. She has good basics, a good understanding of the game, and I'm excited to see what she will bring to the team."