Gallagher Premiership Final ticket details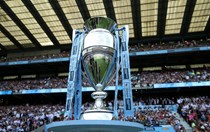 By Mark Stevens
3/6/21
Get your tickets NOW for the Gallagher Premiership Rugby Final 2021!
The Gallagher Premiership Rugby Final returns to Twickenham Stadium on Saturday, June 26 and so do you.
Premiership Rugby are delighted to welcome back fans for the pinnacle of their season where the top two sides will battle it out to be crowned 2021 champions.
Tickets go on general sale tomorrow, Friday, June 4 from 10am.
Stadium capacity is limited to 25% so buy your tickets now to avoid disappointment!